Lisa Hanna seriously considering running for PNP vice president
Published:

Friday | May 20, 2016 | 1:02 PM
St Ann South East Member of Parliament Lisa Hanna says she is seriously considering running for the post of vice president of the People's National Party (PNP).
But Hanna says she is not yet ready to make a declaration, noting that she first has to finalise certain matters.
South East St Ann MP Lisa Hanna responding to talk show host, Cliff Hughes.
The party's four incumbent vice presidents are Dr Fenton Ferguson, Angela Brown Burke, Derrick Kellier, and Noel Arscott.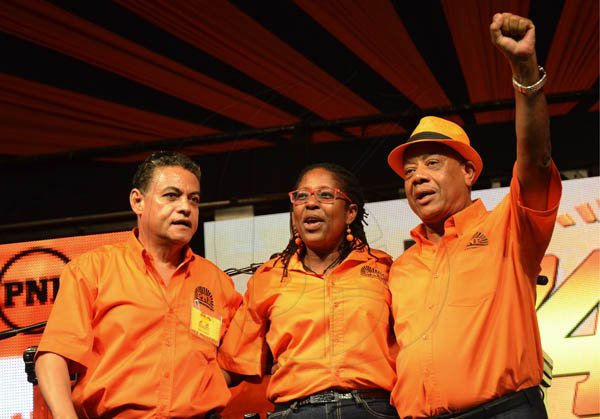 IN PHOTO: PNP vice-presidents Noel Arscott, Angela Brown Burke and Derrick Kellier
Hanna has said she believes it's time for renewal within the PNP, particularly at the level of vice president and general secretary.
In the meantime, Hanna has refused to say who she will support to take over leadership of the PNP when Portia Simpson Miller relinquishes the presidency.
Member of Parliament for St Andrew East Central, Dr Peter Phillips, and Manchester Central MP, Peter Bunting, have already stated their interest in taking over.
However, Hanna says Simpson Miller must be allowed to leave on her own timetable.
Hanna was speaking on Cliff Hughes Online on Power 106 FM.