VIDEO: 'Miracle child' - Miss Universe Jamaica 2015 Sharlene Radlein
Published:

Thursday | September 3, 2015 | 12:00 AM
Seven years ago, when Miss Universe Jamaica 2015 Sharlene Radlein left home for the movies, she had no idea that what she would be seeing would have been scenes of her life flashing before her eyes. She was 17 years old and living in the United States.
Having arrived early for the movie, Radlein and her friends decided to go grab a few beauty supplies nearby. Eight lanes between the theatre and the cosmetic store, it was a trek they often made without worry. This time, however, they were met by the unexpected.
"I only remember seeing the lights turning red and getting up and saying, 'I'm OK'. But my friends insisted I lay flat on the ground because blood was gushing from my head. I passed out again, but this time, I woke up in an ambulance, and the paramedic on board explained that I was hit by a car while crossing the street," shared a pensive Radlein.
Fifteen stitches to the face, eight hours in the hospital, Radlein recalled being dubbed the Miracle Child by members of staff at the hospital.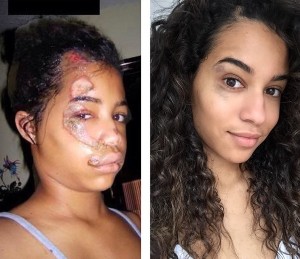 "They said usually, people don't survive incidents like the one I recovered from and in such little time, too. I only had external wounds. Everything was OK on the inside," she said.
It wasn't until the young aspiring model got home from the hospital that she realised the chances of fulfilling her dreams might have been dashed.
Now 24, Radlein gained the confidence to compete in a diaspora pageant for a chance to enter Miss Universe Jamaica and represent her country in China later this year in the Miss Universe Contest. And the results are obvious. "Timing is key and the accident made me realise how important family is. Today, I treasure my family; they are my everything."
PHOTO GALLERY: Miss Universe Jamaica 2015
In our chit-chat, she didn't discuss the beauty regime she employed to bring her better features forward and put the scars of the accident in the background, but we spoke of what a typical day resembles. Before taking the local beauty crown, this young woman usually starts her day with a warm cup of tea and her favourite breakfast item - ackee and salt fish. She heads to the gym next, for a great work-out or aero yoga. Following that, R‰dlein, who styles herself as low-keyed, would curl up and watch a movie with friends, no make-up, hair in a bun, but more often than not, with a plate of home-cooked curried chicken or stew peas.
A daredevil is Miss Universe Jamaica 2015, for, at the end of the spectrum, she would love to skydive around the world in the near future. "Everywhere I visit, I want to skydive there. You know, I would love to jump from a perfectly working plane and just hang there. That would be the ultimate adrenaline rush," shared the beaming young woman.
So what does she have up her sleeves now that she's won the contest? The first item on her agenda is to work with the National Road Safety Council to help reduce the road fatalities in Jamaica that has increased by 20 per cent when compared to last year.
- R.B.