VIDEO: Simpson Miller to write memoirs
Published:

Wednesday | March 8, 2017 | 12:00 AM
Western Bureau:
Opposition Leader Portia Simpson Miller says she will definitely be publishing memoirs chronicling her incredible rise from an obscure rural district to becoming Jamaica's first female prime minister.
Simpson Miller noted that even before she had announced her decision to step down as opposition leader and president of the People's National Party (PNP), she has been inundated with requests for her to write a book about her political journey from Wood Hall, St Catherine, to Jamaica House.
WATCH: Portia talks politics, people, education and her rise to Prime Minister
"I know that this is something that I will have to do," the opposition leader, who will shortly be demitting office, conceded. "This is for all the young women and young men across Jamaica, who, even when the going is rough, can look at my life and know that anything and everything is possible."
Simpson Miller is also promising to give a ball-by-ball account on her interactions and relationships with world leaders such as Cuba's Fidel Castro and Jamaica's own Michael Manley.
"If there was one prime minister who truly loved me, then that was Michael Manley," she said. "He was very easy to work with. I am not saying that others did not love me or that others were not easy to work with. I mean, P.J. Patterson was always nice to me and very easy to get along with, but Manley was certainly very different and in a league of his own."
Simpson Miller said Manley was the consummate campaigner, someone who mastered the art of grass-roots politics and who also had a knack for interacting with people.
"He always wanted me to be on the campaign trail with him," she fondly recalled. "I remember one time I was doing some work in my constituency when I got a call that the leader was going to the country to campaign and was looking all over for me. His handlers had forgotten to tell me, and boy, was he angry! When he found me, he demanded that I join him on the trail. That was the nature of the man."
PICTURE THIS: The many moods of Portia
Simpson Miller said that when she first visited Fidel Castro in Cuba, he would not let go of her.
"He was just fascinated with my story and kept on talking. Even when his people were motioning him to stop, he just wouldn't. His brother Ra?l would later ask why Fidel wouldn't let me go, to which I told him that Fidel is the husband. 'Then who am I? Ra?' I retorted.
'You are the boyfriend,'" I said.
She holds no grudge or malice
Simpson Miller added that as she prepares to demit office in weeks, she holds no grudge or malice towards anyone.
SEE: Portia Simpson Miller cartoons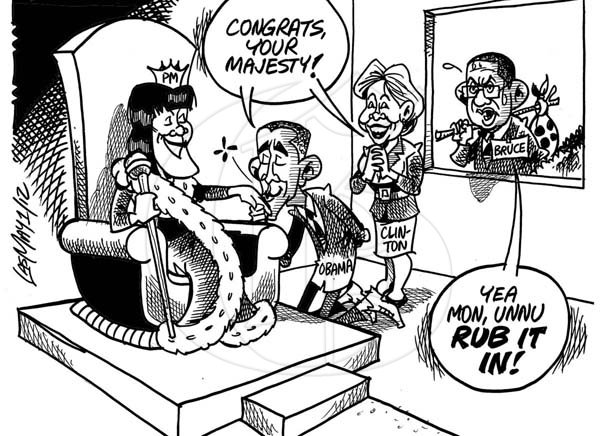 "For me, it has always been about love of country and trying to make a difference in the lives of others. I have been extraordinarily blessed and there is a lot to give thanks for. It has been an incredible journey, one that I have tried to enjoy with as much humility as possible."
And how will she be remembered?
"I have no control over what the historians will say, but I trust that the consensus will be that despite the human frailties, this is a woman who has never failed to give of her best and at all times was an unwavering champion for the poor and voiceless."