'It's not even mine,' Pinnock protests laptop seizure as he is arrested
Published:

Wednesday | October 9, 2019 | 12:00 AM
Danae Hyman, Online Reporter
Arrested president of the Caribbean Maritime University (CMU) this morning protested as law enforcement officers seized a laptop among other items during an operation at his Hellshire, St Catherine house.
"It's not even mine, it's my daughter's," Pinnock said.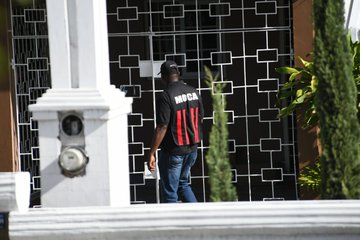 IN PHOTO: A police investigator at the home of former education minister Ruel Reid.
Officers of the Major Organised Crime and Anti-Corruption Agency (MOCA) and the Financial Investigation Division (FID) swooped down on Pinnock's house in a series of simultaneous pre-dawn operations that also saw cops visiting the houses of former Education Minister Ruel Reid, Brown's Town Division Councillor Kim Brown Lawrence and former St Ann North West Member of Parliament Othneil Lawrence.
Lawrence is also a consultant at the CMU. 
READ: Ruel Reid, wife and Fritz Pinnock among five arrested 
Reid, his wife Sharen, their daughter Sharelle, and Brown Lawrence have also been arrested.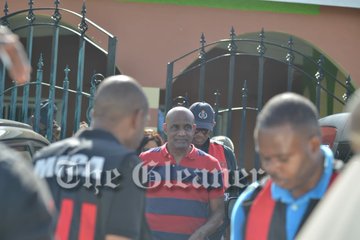 IN PHOTO: Fritz Pinnock being escorted by MOCA detectives 
As the police sought to seize the laptop computer at Pinnock's home at daybreak, his lawyer also intervened, telling the cops that electronics were not covered under the warrant.
"Challenge it in court," a cop responded.
WATCH: Police ask Caribbean Maritime University President Professor Fritz Pinnock to open his grille to allow them inside. Pinnock said he wanted to first contact his lawyer. - Danae Hyman video pic.twitter.com/aqvOsMUVsV

— Jamaica Gleaner (@JamaicaGleaner) October 9, 2019
During the four-hour operation, investigators searched a Suzuki Vitara, a Suzuki Jimny, a Honda Element and a Mitsubishi Pajero at Pinnock's house and confiscated several documents. 
The Pajero is registered to the CMU.
WATCH: Law enforcement officers arresting Caribbean Maritime University president Professor Fritz Pinnock after a four-hour search at his Hellshire home in connection with a major corruption probe - Danae Hyman video pic.twitter.com/shGi29wDlM

— Jamaica Gleaner (@JamaicaGleaner) October 9, 2019
A Honda Accord Sport which was also parked at the property was said to be owned by someone else. 
Approximately 9:20 a.m, Pinnock was taken away by police personnel in unmarked vehicles. 
We want to hear from you! Send us a message on WhatsApp at 1-876-499-0169, email us at editors@gleanerjm.com or onlinefeedback@gleanerjm.com.