It's politics! Fritz Pinnock's daughter emotional as she defends him
Published:

Wednesday | January 22, 2020 | 3:21 AM
Damion Mitchell, Integration Editor
The daughter of embattled Caribbean Maritime University (CMU) President Dr Fritz Pinnock has taken to social media site YouTube, rejecting allegations about her father, now before the court on corruption charges.
In a 10 minutes and 43-second live stream Tuesday night, Abigail Pinnock ranged from angry to emotional as she sang the virtues of her dad she described as a loyal man who has become a victim of politics.
"Oh my God, Jamaica, wake up! Wake up! This is not the person you want!" she exclaimed.
According to Abigail, her father has been dedicated to building Jamaica, turning down lucrative offers including one made years ago to join the staff at Massey University in New Zealand, which would see him taking his family.
She also claimed that he has turned down pay raise and CMU benefits available to him including a fully funded house and a helper.
"Daddy did not take any a dat," she said, claiming he believed it would have been a "waste" of school resources.​
Pinnock, the man credited with transforming the Palisadoes-based Caribbean Maritime Institute (now university) over the past 13 years, has been the subject of a scathing special audit by the Auditor General on the operations of the institution.
READ: Auditor General's CMU report here
It found rampant procurement breaches and accounting practices, flagrant hiring practices, questionable spending and reimbursements at the CMU.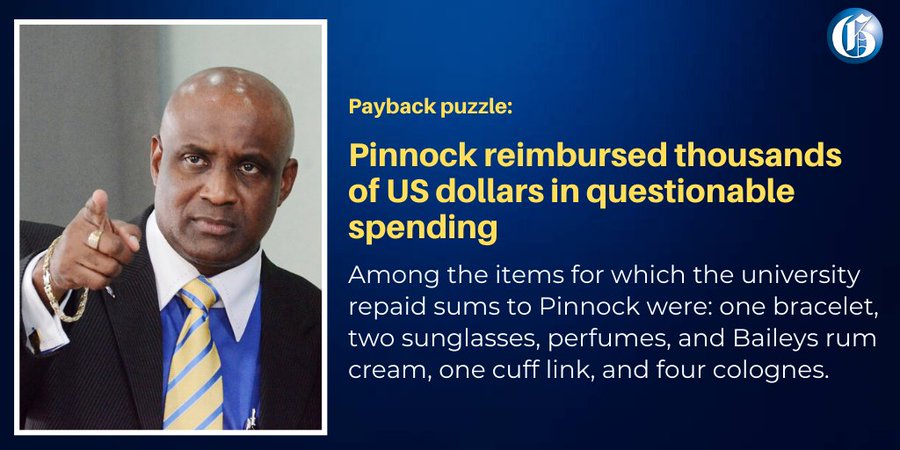 The auditor general also pointed to ineffective supervision by the CMU Council.
In the video, Abigail, declaring that her father was unaware she was doing it, made no mention of the Auditor General's findings but suggested that Pinnock was being made a scapegoat given that general elections are imminent and said the media were being used to push the narrative.
"It's ridiculous that Jamaica is just so non-progressive, it's just an evil, evil place," she said, claiming that her father was being threatened because of jealousy and "bad mind".
"The media can really mek yuh tink seh this is a really selfish tief and it is really not true!" she said.
Abigail also said she would have wanted her father to respond, but he has maintained that he wouldn't.
"That man is a very, very loyal and humble man. I just don't want him to be the downfall for anyone. Jamaica don't deserve him," she said.
Follow The Gleaner on Twitter and Instagram @JamaicaGleaner and on Facebook @GleanerJamaica. Send us a message on WhatsApp at 1-876-499-0169 or email us @onlinefeedback@gleanerjm.com or editors@gleanerjm.com.