Man found not guilty eight years after murder of JUTC chairman
Published:

Tuesday | September 27, 2016 | 2:12 PM
Accused killer Andre Bryan has been freed of the 2008 murder of Jamaica Urban Transit Company (JUTC) chairman, Douglas Chambers.
A 6-1 majority verdict of not guilty was handed down in the Gun Court division of the Home Circuit Court a short while ago, exactly eight years and one month after Chambers was shot dead outside the JUTC depot in Spanish Town, St Catherine.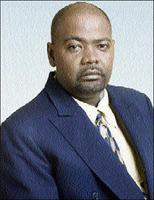 The trial was delayed on numerous occasions for different reasons while Bryan, who was arrested in 2008, remained in police custody.
He was represented by attorney, Valerie Neita Robertson.
On the afternoon of August 27, 2008, Chambers was at the JUTC depot when someone called him to the gate.
It was reported that while he was at the gate, Bryan and three other men shot him dead.
Bryan was arrested and later pointed out during an identification parade before he was charged.
The Crown had alleged that Chambers was killed because of a restructuring and redundancy exercise he was carrying out at the bus company.