PM says 500,000 people in poverty will directly benefit from #5in4 growth initiative
Published:

Monday | November 7, 2016 | 9:21 PM
Jovan Johnson, Staff Reporter
Prime Minister, Andrew Holness, has stressed that his administration's goal of achieving five per cent gross domestic product (GDP) growth in four years will directly benefit more than 500,000 Jamaicans living in poverty.
"This plan is pro poor," he said Monday night, in response to a question posed at the signing of a declaration of intent that the Government will pursue the '5in4' target.
Dozens of leaders in business gathered at the Courtleigh Auditorium in New Kingston to witness the signing.

IN PHOTO: Prime Minister Andrew Holness and Michael Lee-Chin sign ECG declaration - via Twitter @mmalahooforte
Holness said the eight proposals from the Economic Growth Council (EGC) will ensure any economic prosperity reaches the Jamaica's poor.
According to him, there is an emphasis on financial inclusion and providing access to credit.
No land titles
The prime minister also stressed that there are no titles for many of the lands in Jamaica, while real estate development has been constrained by crime.
On crime, vice chairman of the EGC, Ambassador Nigel Clarke, noted that all freedom and safety are important in supporting economic pursuits.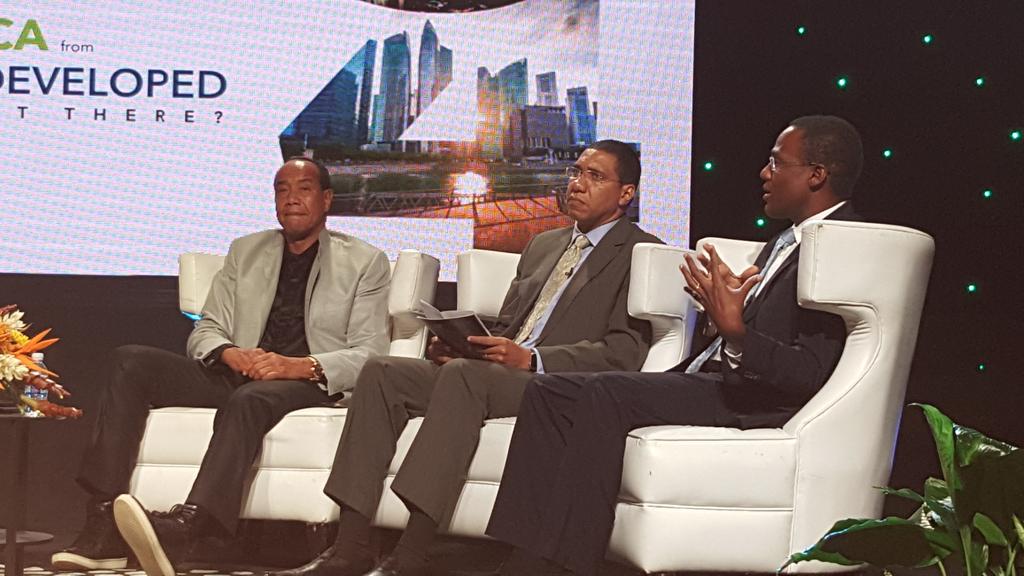 IN PHOTO: From left ECG chairman Michael Lee-Chin Prime Minister Andrew Holness and ECG deputy chairman Dr Nigel Clarke - via Twitter @mmalahooforte
The murder figure is the main indicator Jamaicans use to determine safety and Jamaica has one of highest homicide rates per capita in the world.
Meanwhile, the EGC chairman, Michael Lee-Chin has reiterated that the target will be reached by the end of the the 2020/2021 fiscal year.
"I wouldn't have stuck my neck out," he said, noting favourable indicators such as low energy and telecoms prices as well as multilateral support.
He also said Jamaicans are prepared for a new era of growth.
Holness established the EGC in April to propose growth initiatives and then monitor their implementation.
Some of them have been included in the proposed standby agreement that the International Monetary Fund board is to consider this month.
Over last 20 years, Jamaica has averaged GDP growth of 0.5 per cent per annum. Poverty and unemployment have remained in double figures.