#LocalGovtDebate: JLP and PNP teams for tonight
Published:

Wednesday | November 16, 2016 | 7:58 PM
Representatives of the two major political parties will square off at 9 p.m. in the first of two televised debates on local government ahead of the elections.
Each debate is planned to run for 90 minutes and will involve two teams of three members from the Jamaica Labour Party (JLP) and the People's National Party (PNP).
Teams for tonight:
JLP:
Local Government Minister Desmond McKenzie;
Councillor in the St James Municipal Corporation Senator Charles Sinclair;
Councillor in the St Catherine Municipal Corporation Kenisha Allen.
PNP:
Mayor of Kingston and chairman of the Kingston and St Andrew Corporation Senator Angela Brown Burke;
Councillor Manchester Municipal Corporation Donovan Mitchell;
Mayor of Black River Everton Fisher.
The teams will clash policy-oriented topics:
Funding models (property taxes, licensing fees, local fee collections from barbers, hairdressers, subdivision and building fees, etc
- Accountability mechanisms budgeting presentation and approvals
- Governance structures.
- Proposals to strengthen or reform local government.
The PNP will make the first opening statement having won the coin toss.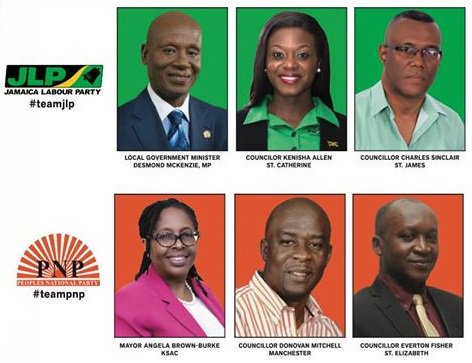 Who will ask the questions?
Patrick Anderson of RJR is the moderator for tonight's first debate.
The questioners are: Earl Moxam (RJR); Kimone Francis (Jamaica Observer); and Natalie Campbell (Irie FM).
CVM's Marjorie Gordon will select questions from social media for the two debates which will take place in the studios of the Creative Production & Training Centre. The debates will be carried live on a mix of free-to-air and cable channels as well as on radio and will also be streamed live on the Internet.
The second debate, which will address local government issues, such areas as parochial roads, parks and markets, will take place in a week's time on November 23.
Local government elections are set for November 28.

LOCAL GOVERNMENT FACTS:
• The very first parish council election held on Thursday, October 23, 1947 was won by Independent candidates.
• The 1947 parish council election also represents the only time that any independent political entity claimed an election victory in Jamaica. 
• The vote totals for the 1947 local polls were: Independents 88,111; PNP 68,784; JLP; 62,285. Of the 198 constituencies, the box score was: Independents 88; JLP 56; PNP 52.