Manchester businesses encouraged by police response to extortion attempt
Published:

Monday | March 6, 2017 | 5:38 PM
The Manchester Chamber of Commerce says it is encouraged by the response of the police to attempts to extort business people in Mandeville.
Members of the chamber this morning met to discuss the extortion threats.
President Garfield Green says the business community is comforted that the matter is being given priority.
The police have now arrested four people including a 62-year-old woman who is the suspected mastermind in behind the scheme.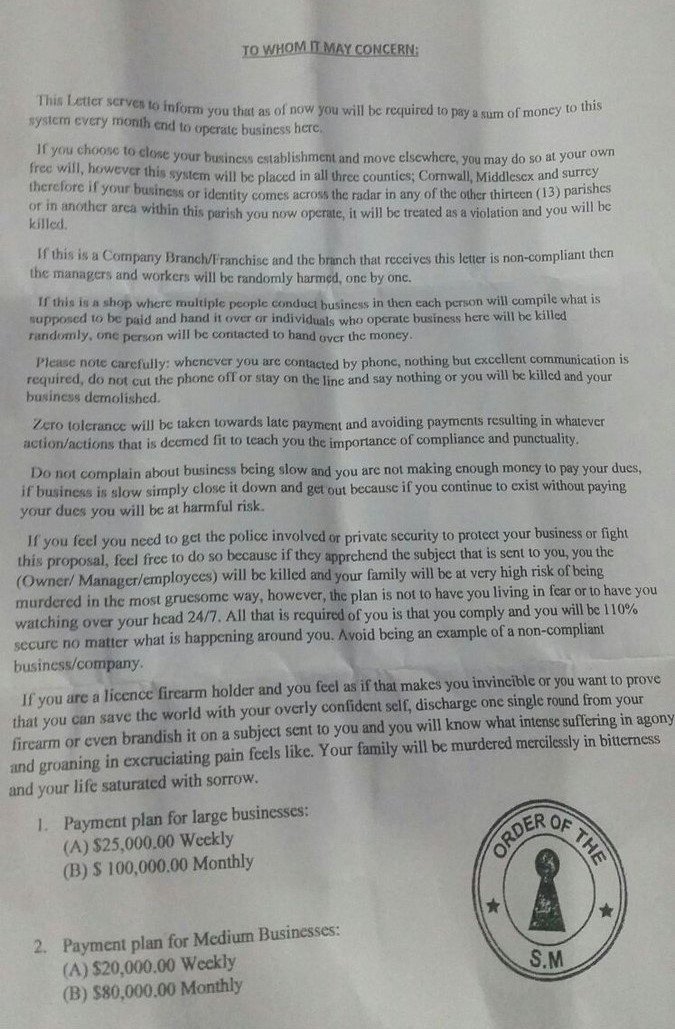 IN PHOTO: A copy of the demand letter by alleged extortionist
Last week, the police also held two men in a BMW motor car in which 15 extortion demand letters found.
The letters outlined a payment plan of up to $100,000 a month.
They also warned that business operators and their employees would be killed if they refused to comply or if they contacted the police.
According to one of the operators who asked not to be identified, the incident had left some of his staff in fear.
Amid the anxiety last week, private security guards were on some shopping plazas at the close of business to provide support.
But the businessman says workers have now been reassured since the arrest of the alleged perpetrators.
The businessman also says there has been an increase in police presence in shopping plazas.
At the same time, he says private security companies remain proactive.