#JaBudget2017: My heart is overflowing, says Portia in final Budget presentation
Published:

Thursday | March 16, 2017 | 3:28 PM
Jovan Johnson, Parliamentary Reporter
Saying her heart was overflowing with gratitude, opposition leader Portia Simpson Miller told her Parliamentary colleagues this afternoon that final address to the Parliament in that role was "bitter sweet".
"This is the 11th occasion on which I will speak from this chamber as a parliamentary leader," she said this afternoon to cheers from government and opposition members.
Of that eleven, she's spoken five times as opposition Leader and six times as Prime Minister — stretching back to 2006, the year she became Jamaica's first woman head of government.
WATCH: PICTURE THIS — Portia in the Budget Debates since 2006 
"What a political life I have had," she continued.
"I have seen the good, the bad, the happy, the sad; but above all, I have had an incredible journey of service to my beloved people and country," she said.
Simpson Miller quickly outlined that when she reflects on her journey from Wood Hall in rural St Catherine, she sees a great reason to celebrate Jamaica as a "special and remarkable place".
Although criticised for her perceived passive leadership style and intellectual strength, the outgoing popular leader noted that her rise from humble beginnings to head of government, reaffirms her belief in the maturity and wisdom of Jamaicans.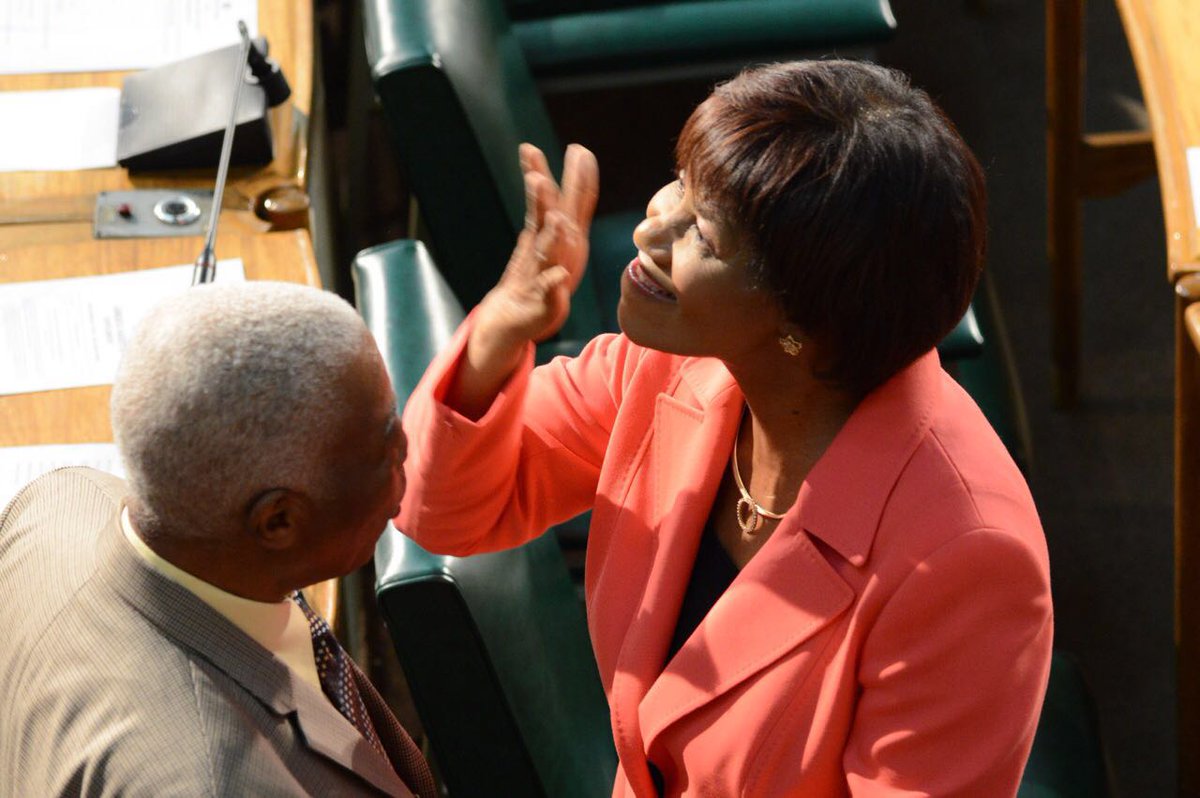 IN PHOTO: opposition Leader Portia Simpson Miller blows a kiss to members of the gallery while speaking with former Senator AJ Nicholson
She admitted that more has to be done to advance development in St Andrew South Western, the constituency for which she's been MP since 1976 minus the period 1983-89.
"I would be the first to say we have not achieved everything we wanted. There is a lot more to be done. However there is no doubt South West has come a long way from where I found it in 1976," she said, while listing infrastructural improvements and efforts to resolve conflicts as some achievements.
Simpson Miller will step down on April 2 as opposition Leader, paving the way for the ascent of Dr Peter Phillips who twice unsuccessfully challenged her leadership.