Soulful serenade and a tearful farewell for Sista P
Published:

Sunday | March 26, 2017 | 7:47 PM
Damion Mitchell, Integration Editor
It began with Neville 'Struggle' Martin's rendition of a song he said he wrote for Sista P - the populist politician Portia Lucretia Simpson Miller who has now retired as president of the People's National Party after 11 years in the post.
"Sista P wi love you, Sista P wi gonna miss you," he sang to a variation of the popular rhythm of the longtime PNP campaign song, 'My leader born yah'.
Throughout the rendition, Martin, clad in an orange shirt with the image of Dr Peter Phillips emblazoned on the front would call the name of the successor too.
"Peter love you .... Bobby love you.... PJ love you ... Phillip Paulwell too..." he sang.
At first, Simpson Miller, seated on the platform before thousands of comrades, rocked to the rhythm.
But that would be short-lived.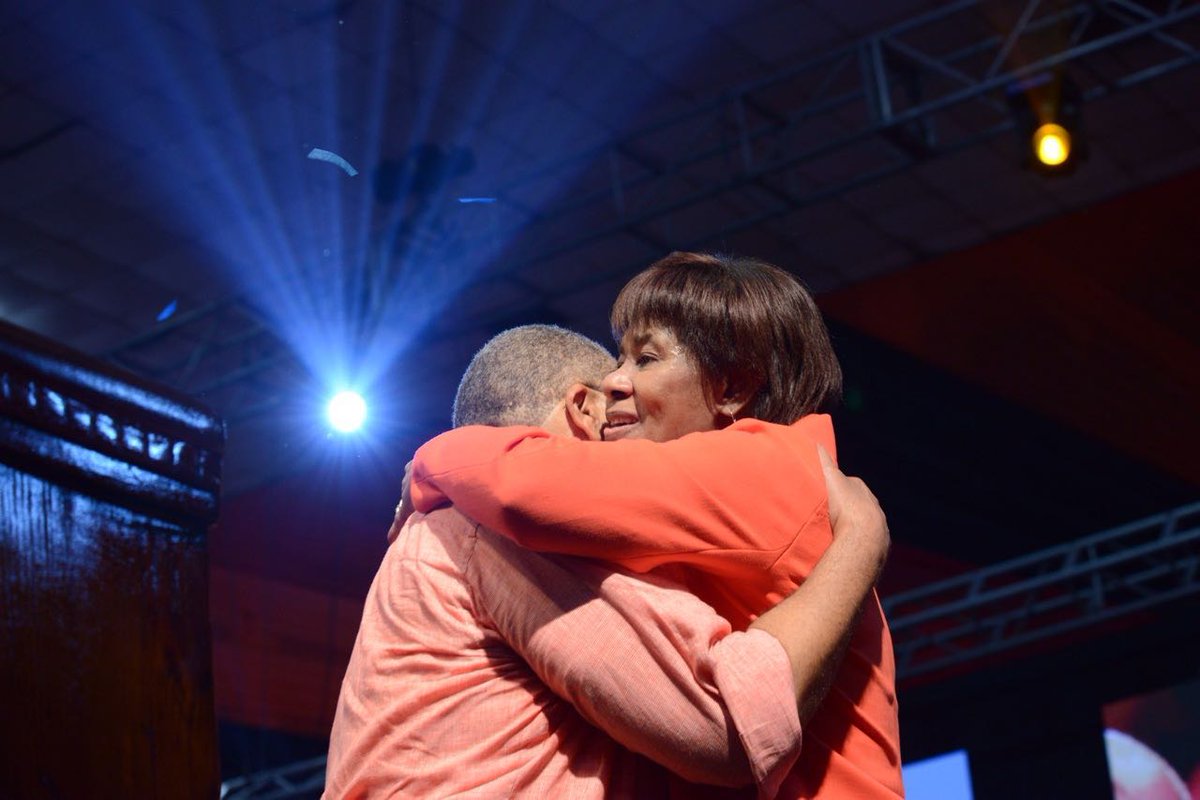 IN PHOTO: Simpson Miller hold Phillips in a tight embrace
Within moments she was right next to Martin at the lectern as he paid tribute to her.
As Martin wrapped up his performance with an abbreviated version of 'My leader born yah', Simpson Miller would hug him and kiss him on both cheeks.
But the serenade would continue with soulful selections punctuating the first ten minutes of her final presidential presentation.
From Tina Turner's 'Simply the Best', to Beres Hammond's 'No Goodbye' the stage was set for an emotional farewell by Simpson Miller.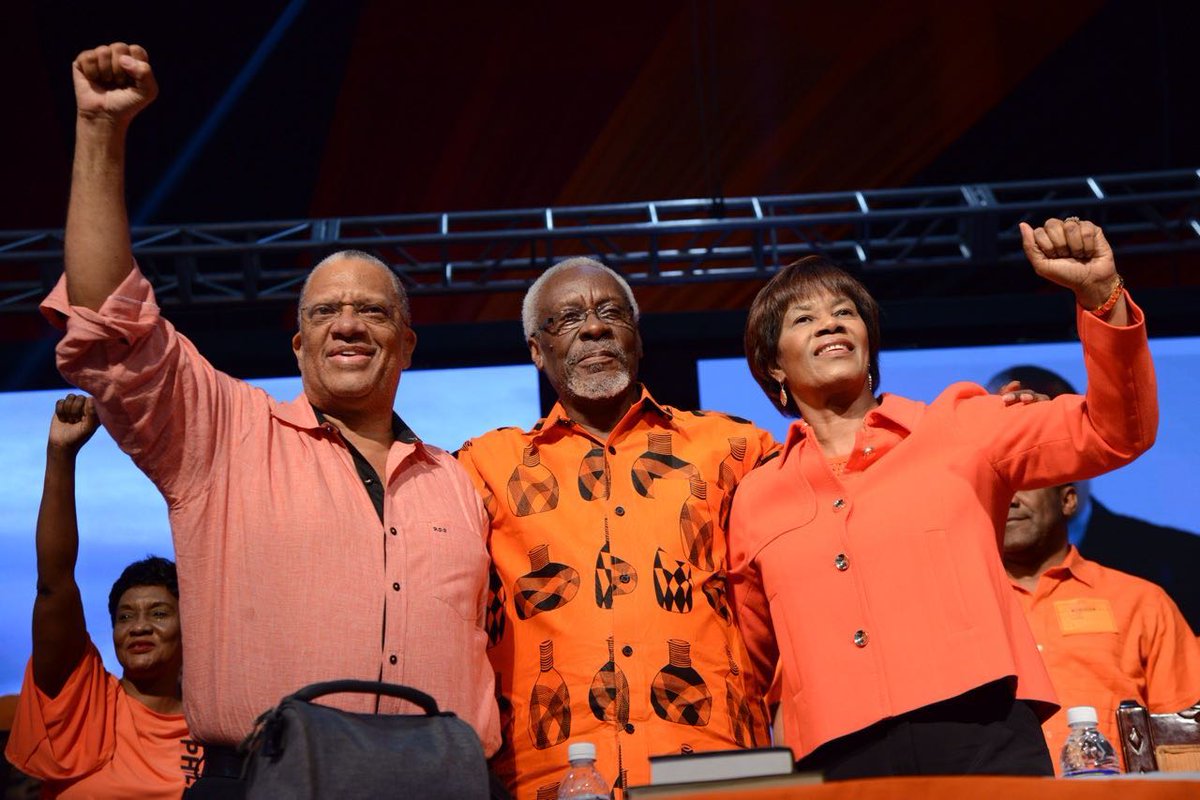 IN PHOTO: Dr Peter Phillips (left) with former PNP President PJ Patterson and Portia Simpson Miller
"I speak with pride today as we witness this smooth transition from one leader of the People's National Party to another," said Simpson Miller, before Ken Boothe's ' 'Everything I own' sent Comrades to their feet.
And when she told supporters how proud she was to have served them for 11 years, the disk jock drew on 'She's still loving me' by Morgan's Heritage.
"Together we have stood on the battlefield, together we have faced the pain of defeat, together we have savoured the sweet taste of victory, together we have walked through the valleys, together we have stood on the mountain top," said Simpson Miller, then the Comrades' voices went up in a chorus to Kenny Rogers' 'Write Your Name Across my Heart'.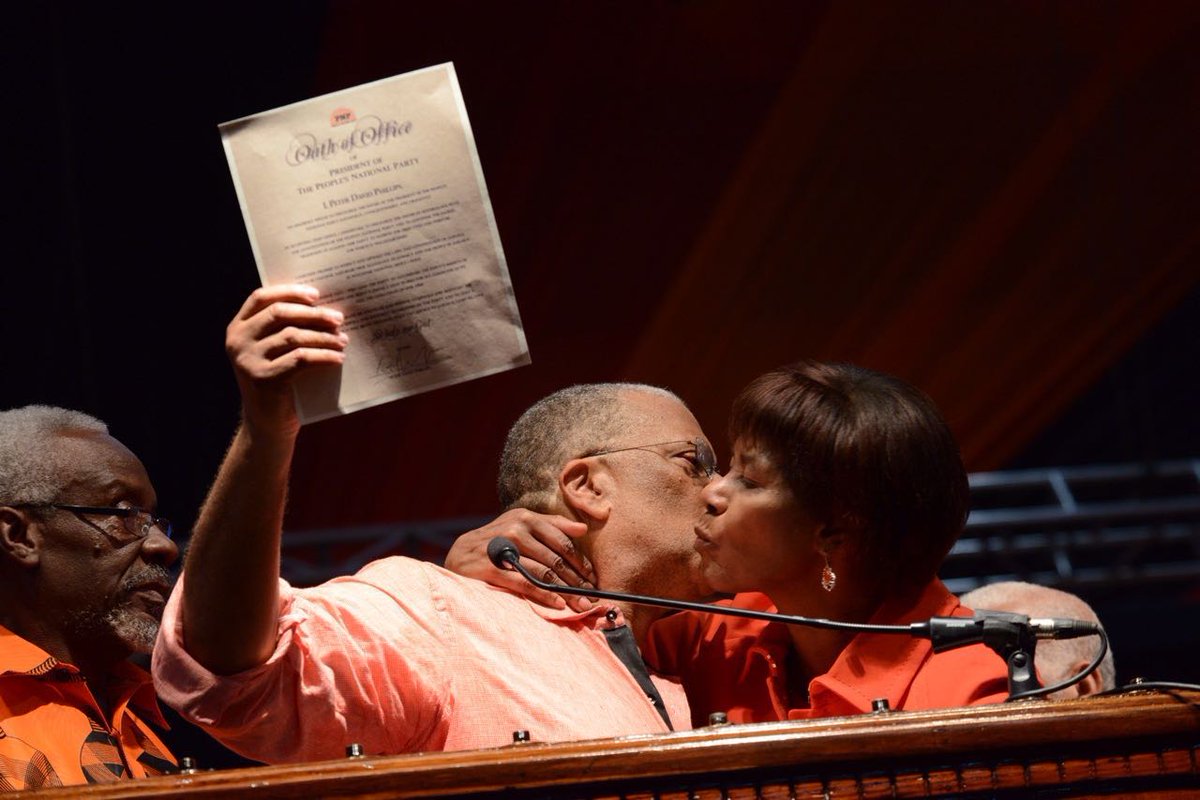 IN PHOTO: Simpson Miller congratulates Phillips after he took the oath of office
At points, it appeared Simpson Miller's voice was cracking as she belted more and more words of thanks to Comrades at every level and a plea for them to support the new president Dr Peter Phillips.
"It has been a privilege of a lifetime to have served as your president. I will never forget you," said Simpson Miller, bringing to a close her 26-minute speech with the sounds of Whitney Houston's 'I will always love you' echoing from the speakers at the National Arena.
As she moved from the lectern, then turned to the Comrades, blowing kisses, tears welled up in Simpson Miller's eyes.
Sitting legislators and other PNP officials on the platform would form a guard of honour for the woman they call Sista P, who twice beat her successor in an internal poll.