Police question alleged gangster Tesha Miller, lawyers heading to court to seek his release
Published:

Wednesday | April 19, 2017 | 10:51 PM
Andre Williams, Gleaner Writer
The attorneys for reputed Clansman gang leader Tesha Miller are to head to court on Thursday to seek his release from custody after spending another night in jail without charge.
Miller is being detained under the anti-gang law.
Late Wednesday evening, he completed lengthy question-and-answer sessions by detectives in two police divisions and was taken back into custody.
"We are now in an even stronger position to go before the court," one of his attorney's Able-Don Foote told The Gleaner.
"We have firm confidence in the system in terms of the letter of the law being invoked by the court so we will be relying on certain provisions which will aid in his situation," Foote said.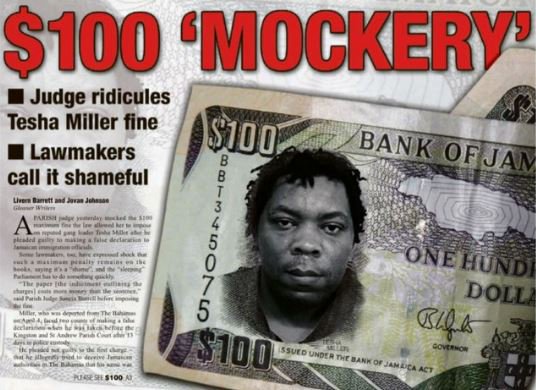 On Tuesday, Miller, who had long been listed as a person of interest, was fined the maximum $100 after pleading guilty to one of two counts of making a false declaration to Jamaican immigration officials on his deportation from The Bahamas on April 4.
He pleaded not guilty on the second count and was freed after the prosecution offered no evidence.
Miller was in Bahamian custody for several weeks before he was sent back home.
On arrival at the Norman Manley International Airport, he was immediately arrested and has been in custody since.
Miller was only charged with the immigration offences and brought to court this week after his lawyers filed an application for his release from police custody since he had been behind bars for more than two weeks without charge.