EXCERPT: Montague rejects Bunting's 'fake news'
Published:

Thursday | April 27, 2017 | 11:35 AM
National Security Minister Robert Montague yesterday used the closing moments of his contribution to the Sectoral Debate to reject several claims made by his opposition counterpart Peter Bunting a week earlier in the House of Representatives.
"Do better young man," Montague urged Bunting, saying he was spreading fake news.
See below an excerpt of Montague response to Bunting:
Mr. Speaker, the Member from Central Manchester made some unfortunate remarks last week. Very unfortunate. In his quest for headlines he shouted and pontificated "fake news". Since then, everybody who is associated with National Security,  is calling him Mr Fake News. I do not support name calling.
Mr Speaker, I have no wish to embarrass or humiliate the young man from Central Manchester.  Sir, I will only lay out the facts.
Mr Speaker it was not all doom and gloom. He made at least two points where one thought he could have done more. He criticised me on the legislative agenda we had planned. I concede. Our performance was not as robust as it should have been.
On the matter of turning firearm holders into special District Constables; during the consultation of the final draft for the proposal, the technical staff raised a number of questions, e.g. whether they would fall under the remit of INDECOM. Further research and work is taking place. Mr Speaker these and other matters we thought the young man would have dived into because we are open to suggestions and ideas. Instead the young man did not heed
Dr. Phillips advice to students of UTech "keep away from selfish, narrow politics".
Mr. Speaker he went on and tried to score political points.
He stated:
Comment 1
"Last week the American media pointed to many policy reversals on campaign promises e.g. 1) Avoiding the use of military force in Syria  2) Labelling China a currency manipulator 3) On the North Atlantic Treaty Organisation (NATO) being obsolete."
Mr. Speaker, what right does the member have to use the Parliament to negatively comment on the Internal Affairs of a friendly country?
Mr Speaker, is it normal to use the Parliament to attack and question in a subtle way, the President of the United States of America or any other leader? It is actually against established diplomatic protocols.  It is also against the Standing Orders of Parliament.
The United States is our biggest partner in National Security. Why attack them?
Do you know what you are doing? Do you know the possible effect on many Jamaican businesses and families if we pick a quarrel with our biggest trading partner? Our oldest ally in the fight against crime? A country where thousands of Jamaicans call home.
Do you know what you are doing? Have you thought of the effect on the many Jamaicans living in the USA as a result of your loose comments?
The United States Government spends millions of dollars on Jamaica's National Security Architecture, training, donation of assets, sharing of intelligence, assistance with our maritime space and you a former Minister of National Security are being so careless with the lives of thousands of Jamaicans.
Do better young man.
I am sure the United States Embassy will say all is well. But, that's what good Ambassadors do. We have an excellent one from Washington.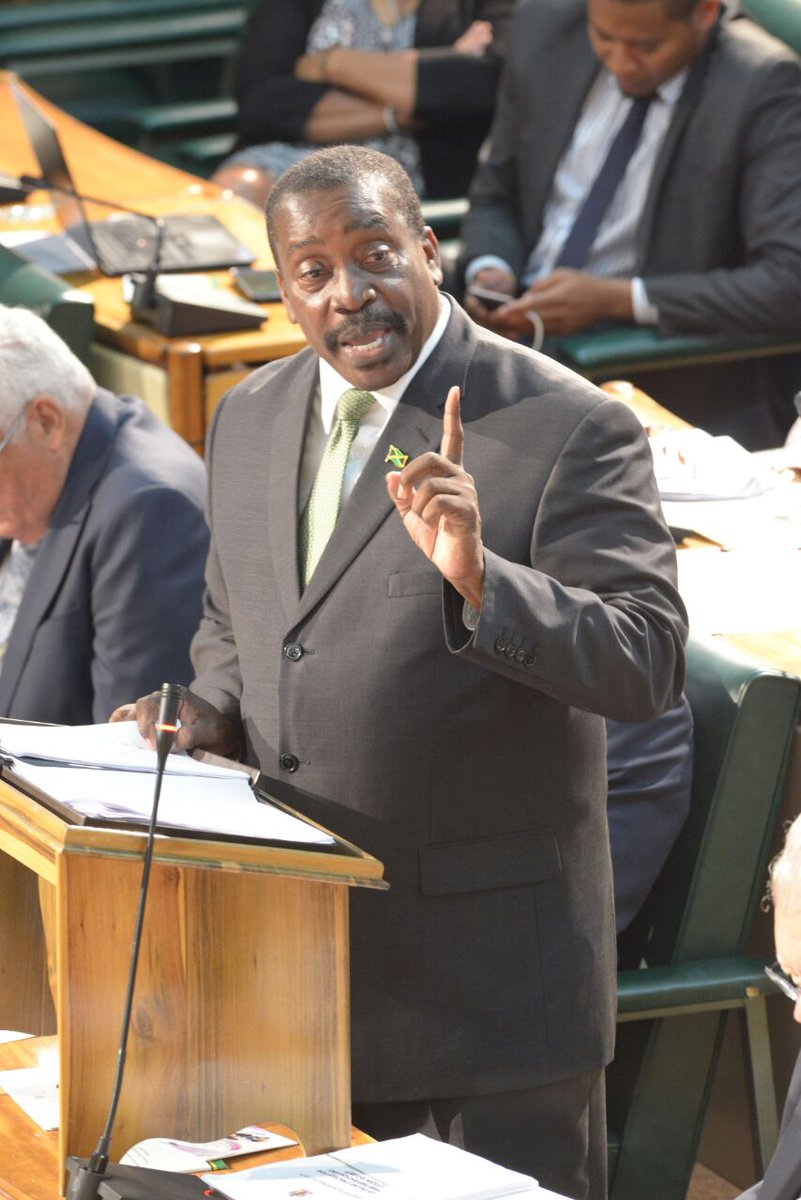 IN PHOTO: Montague ... I have the invoices here and will give him copies.
Comment No. 2
He unfortunately and ill-advisedly, claimed that the DNA regulations were not crafted or published.
The Jamaican Gazette of Friday March 31, 2017 published same (pass a copy to Bunting).
I do not wish to embarrass him. I am just laying out the facts. Destroying the "FAKE NEWS"; with great fanfare he stated no DNA registry. Well what say you now?
Comment No. 3
Mr. Speaker, the honourable gentleman claimed we have not spent the billions promised. Sir on Page 6 of his speech is an extract of the yellow budget book (The Estimates of Expenditure) that he held up. He did not put it on the screen.
Why? Because it showed the revised estimate (supplemental budget) increased by not 1, not 2, but over 3 billion dollars. 3 Billion dollars. 3 billion not millions but billions.
Yet he artfully left it out. Sad Sad.
I wish to quote from a former a Prime Minister,
"Dem Lie" — Most Hon. Michael N. Manley
The money was used to purchase 2 ships and a plane. I have the invoices here and will give him copies.
Comment No. 4
Dogs- He well knows that we can only buy dogs from rabies-free countries. We must respect the process and laws of our partners. We cannot go and demand dogs or any other goods, we have to make the request and wait. He never even placed an order for dogs. We have the money, we have the need but we must be respectful of laws of countries with which we partner.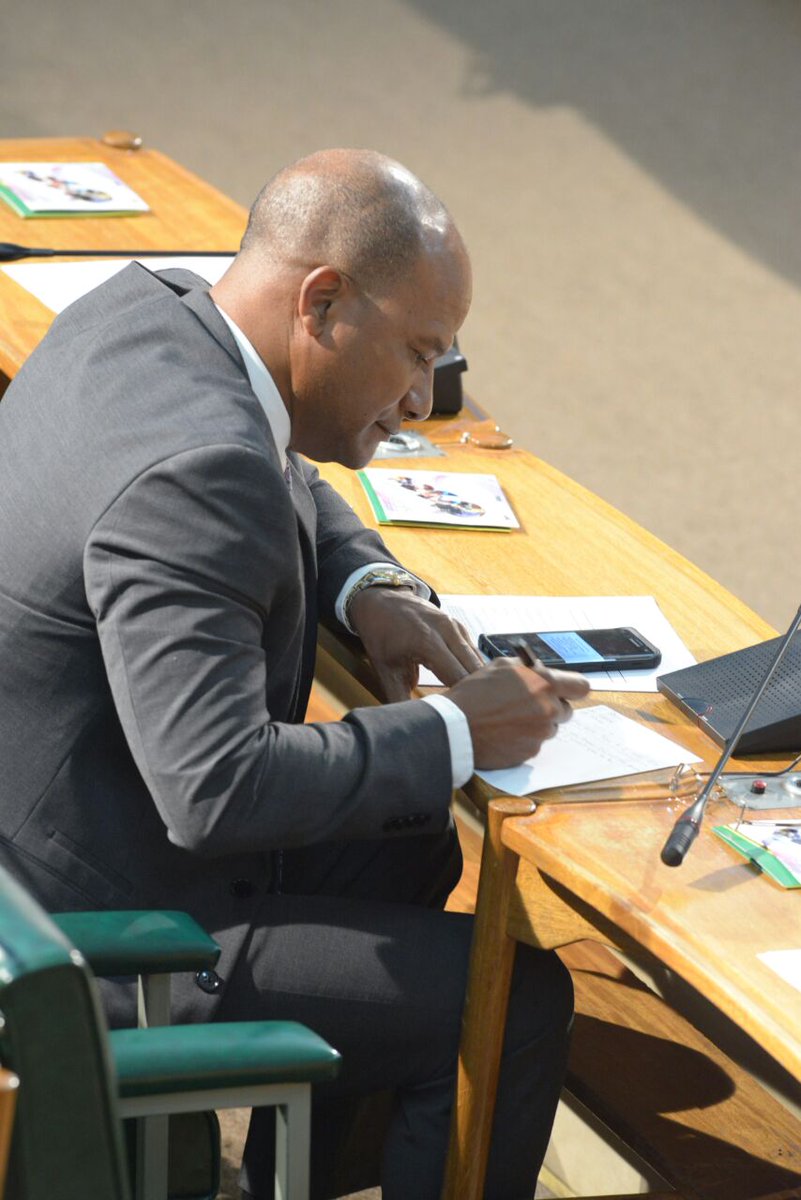 IN PHOTO: Peter Bunting in Parliament
Comment No. 5
In his speech on Page 7, at the very first line he left out a part of the sentence "Nor has the new 300 bed facility at Tamarind Farm been commissioned"
You know why he left it out? Tell them Hon. Member, Tell the Speaker.
The former Minister of National Security, just before me, built the new wing, and I say congrats, beautiful building, well built, we can name it after him as is!!!
It has no sewage treatment facility.
Honourable Member from Central Manchester, consult the former Minister, get the facts before you speak. We cannot use the facility until the sewage plant is completed. This error of yours, has used up millions of dollars that could have bought more cars.
Comment No. 6
He claimed that the company which won the bid to supply the motor cars and pickups, O'Brien's International Car Sales, did not import any motor vehicles for the "last two years".(Speech) but he said 5 years.
Sir, the Trade Board has informed that O'Brien's in 2016 was issued with 27 permits.  In 2015, 16 permits; 2014, 64 permits, and in 2013, 206 permits.
In addition, the Ministry of Tourism knows this company well, as it is qualified to receive duty concessions on motor cars for rental and O'Brien's has accessed this facility.  We have letters from the said Ministry for May, June and July of 2015.
The company has imported cars as these C87 Customs forms show.  These are from 2014 and 2015.
Coincidentally, the price in the successful bid for the Axio Corollas for the Jamaica Constabulary Force (JCF) is $1.3m. Do you want me to stop?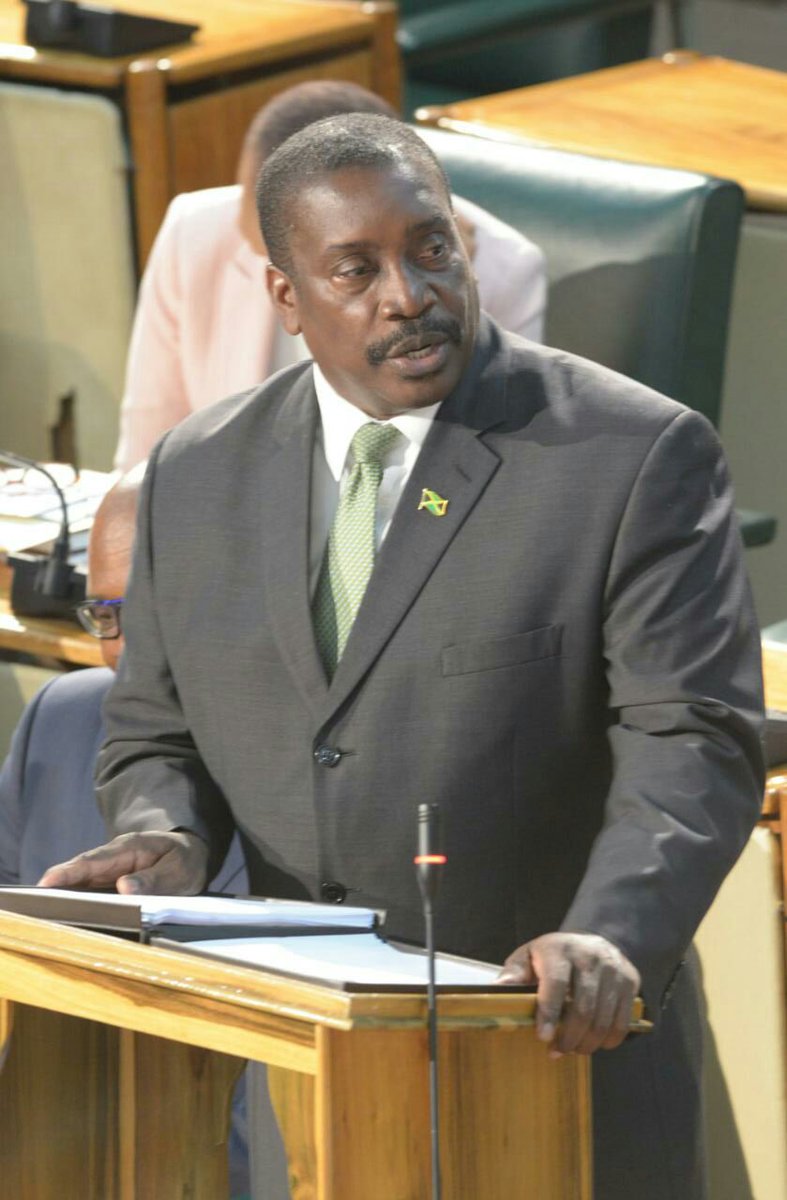 IN PHOTO: Montague: Do you want me to stop?
Comment No. 7
Mobile Stations: He questions where they are? Sir, the Ministry of National Security now follows the procurement guidelines. They are being built out now, here in Jamaica not imported from overseas. "DEM LIE".
Comment No. 8
Police rule book (Book of Rules) was published electronically and has been made available to Force members and indeed any member of the public who cares to examine. It has been available on the Jamaica Constabulary Force (JCF) website under the resources section since August 2016.
Again "dem lie"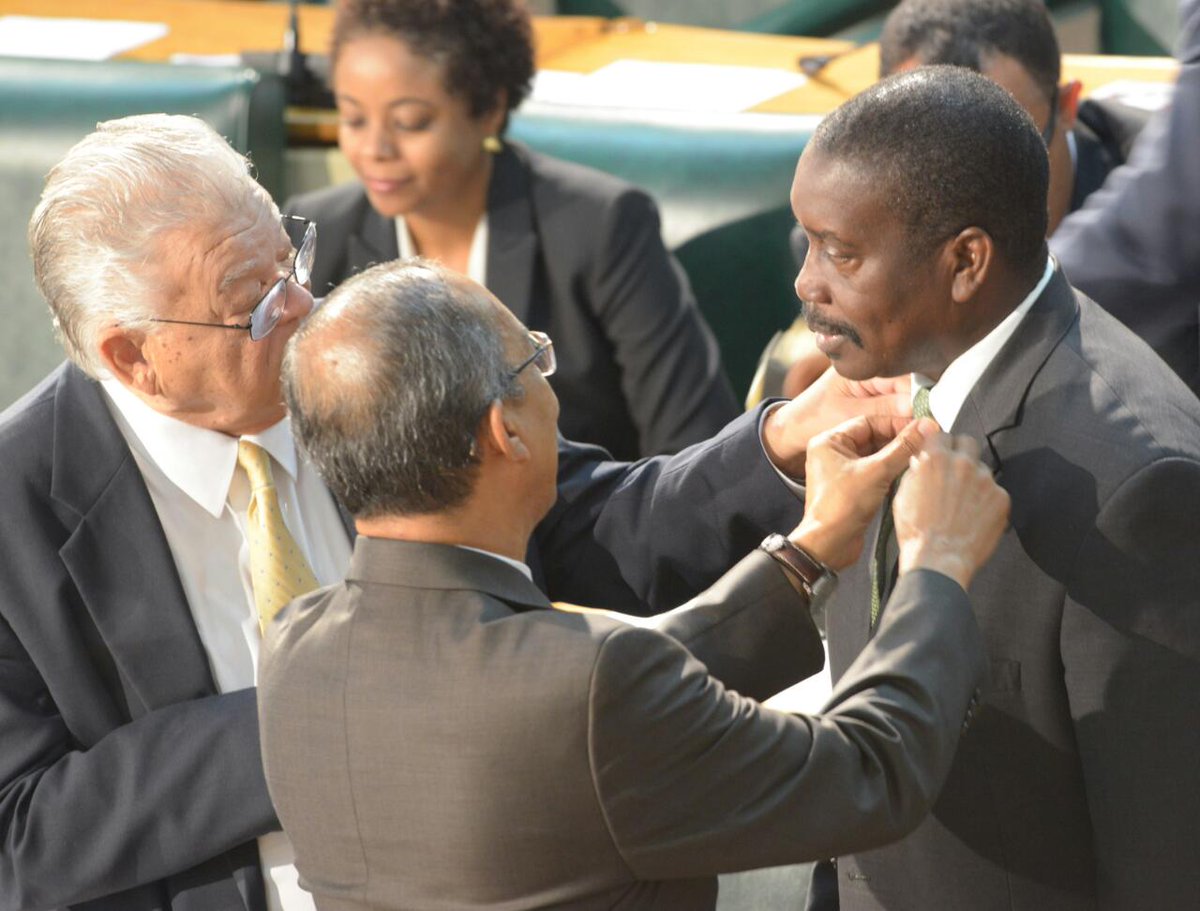 IN PHOTO: Government ministers Karl Samuda and Dr Horace Chang fix Montague's tie.
Comment No. 9 (Summary)
He criticised me for calling "Tief, Rapist, and Murderers;  Dutty Criminals".
Mr. Speaker will the Member tell me what term I should use? What term better describes them?
*Mr. Speaker, I thought the gentleman would come here and thank the Administration for paying the $309M to the retired officers who could not get paid during his period as Minister.
*I thought he would be delighted for the officers who have seen 17 police stations repaired.
*I thought he would be ecstatic to know that we bought a brand new coaster bus for the Police Federation; a new bus for hardworking staff at the Ministry; 2500 ballistic helmets; 3000 ballistic vests; 250 motorbike helmets; 800 beds; 15 million for District Constable Uniforms; 100 combat boots for ladies;
*50 mobile radios
*22 million dollars to purchase raincoats.
*Six generators, fire extinguishers
Mr Speaker, we must not use National Security to push our partisan political agenda.
I am hopeful that the young man regrets his actions and will do better research in his next portfolio. He has failed here and let down his side.
Paraphrasing the Most Hon. Michael Manley: " Dem Lie Dem Lie" "Dem Lie"
Congratulations to the PNP delegates they did not vote for that Peter.