Youngsters impress at JGA Junior Series finale
Published:

Monday | February 6, 2017 | 12:00 AM
Shayne Fairman
The fifth and final game of the 2016-17 Jamaica Golf Association Juniors Series climaxed with much excitement, where 17 of the island's top juniors stamped their class on the competition, taking top prizes at the Caymanas Golf Club, in St Catherine on Saturday.
Last Saturday's curtain-closer of the national junior series also signalled new and upcoming young talents in the classes of Beginners, Intermediate, Semi-Advanced, Red Tees, White Tees and Blue Tees.
The youngsters were awarded 100 points for each match won in the series, 90 for second, while third place got 85, and participants earned 50 points for competing.
After the five games, a confident Adrian Barnes emerged as the overall winner in the Beginners Class with a score of 365 points, while Cillian Hall (340 points) and Kemari Morris (325) were second and third, respectively.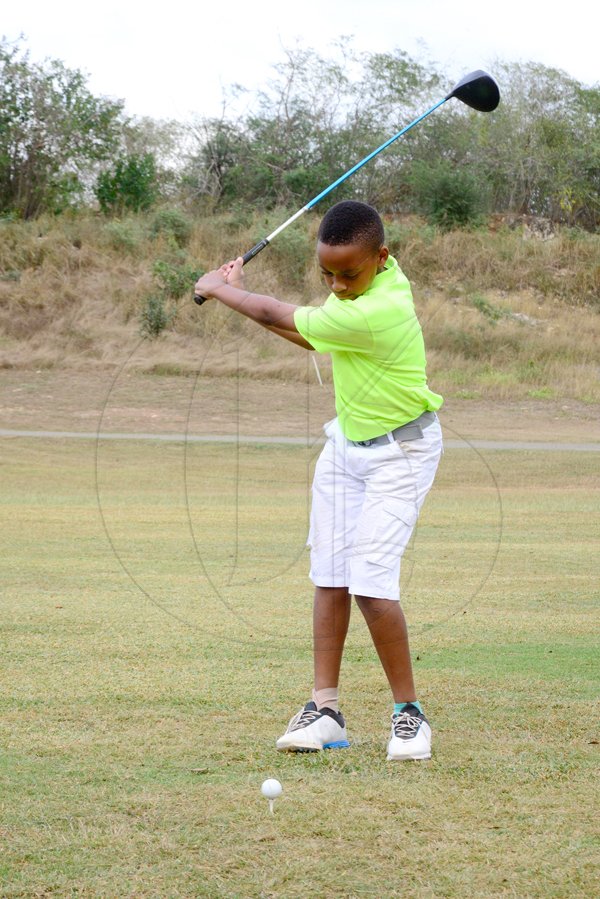 IN PHOTO: Bjorne Dennis takes a practice swing before teeing off
The Intermediate Class went to the consistent Lek Drummond, who scored 490 points, to finish ahead of second placed Mattea Issa (445) and Samantha Azan (440) who took home a third-place finish.
EXCITING PLAY-OFF
In Semi Advanced, Brady Holmes showed his abilities in finishing with a score of 430 points - 40 more than second placed Sebastian Azan, who cleverly nudged Bjorne Dennis into third place in an exciting play-off after he too tallied 390 points.
The Red Tees was highlighted by the brilliance of Tristan Brown. Brown won all five games with maximum 500 points, while Rocco Lopez finished a close second with 450. Emily Mayne was third with 385 points.
SEE MORE PHOTOS HERE: http://bit.do/JuniorGolfers
The White Tees category was won by Tajay Loban with 345 points. Luke Chin copped second with a score of 275, and Elric Li scored 150 for third.
The Blue Tees competition went to standout Justin Burrows, who scored 365 points, while Navarra Nelson copped the runner-up spot with 200 points.
Jamaica Golf Association (JGA) president Peter Chin praised the junior golf programme for how well it is doing locally, while noting Jamaica could very soon have a championship team in the juniors in the Caribbean.
"You are going to lead that charge," Chin told the youngsters.
Game number five class winners
Beginners:
Cillian Hall 46
Adrian Barnes 47
Kemari Morris 48
Intermediate:
Lek Drummond 39
Mattea Issa 39
Samantha Azan 44
Semi-Advanced:
Sebastian Azan 86
Trey Williams 88
Bjorne Dennis 99
Red Tees:
Tristan Brown 77
Rocco Lopez 81
Emily Mayne 94
White Tees:
Luke Chin 77
Kei Harris 81
Tajay Loban 87
Blue Tees:
Justin Burrows 85
Navarra Nelson 117