#ReturnToLondon: Bolt injured on final leg as Jamaica suffers another shocker
Published:

Saturday | August 12, 2017 | 12:00 AM
Jamaica suffered a major disaster in the final men's 4x100m relay after sprint superstar Usain Bolt pulled up on the anchor leg and failed to finish at the IAAF World Championships in London today. 
The Jamaicans were led off by World Championships 110m hurdles champion Omar McLeod to Julian Forte to Yohan Blake.
They were in contention  for medal when Bolt pulled up in the home stretch holding onto the thigh as he failed to finish and fell to the ground grimacing. 
The 30-year-old Bolt is scheduled to retire after this championships.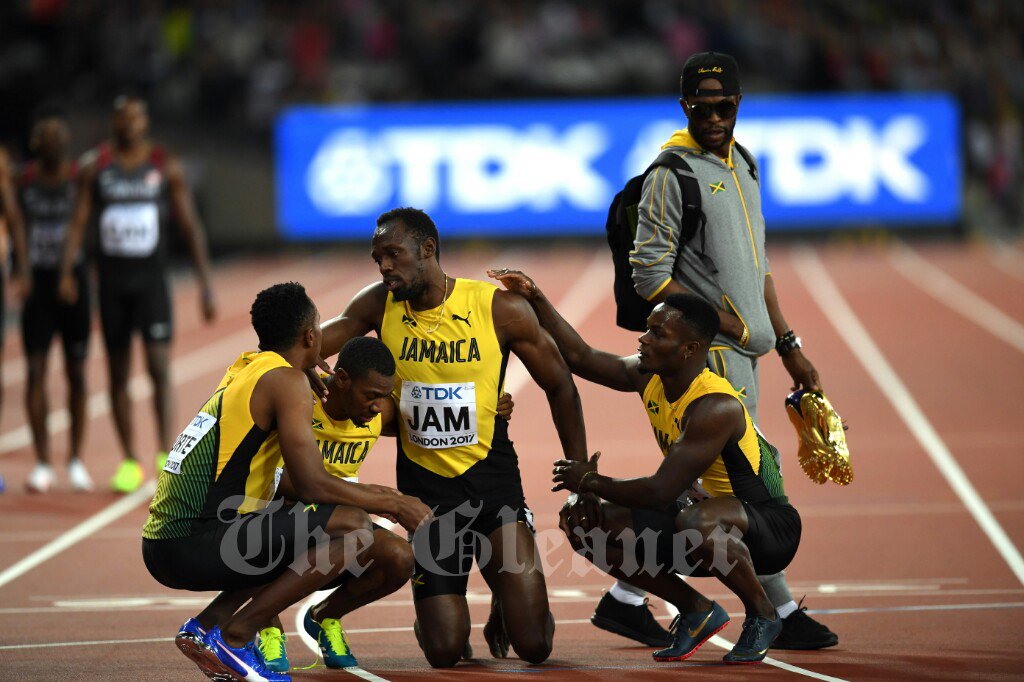 The race was won by Great Britain in a world leading 37,47.
The silver went to the United States in 37.52 while Japan took the bronze in 38.04.     
Speaking with TVJ's Spencer Darlington, the Jamaicans complained about the long period they were held in the call room before the race.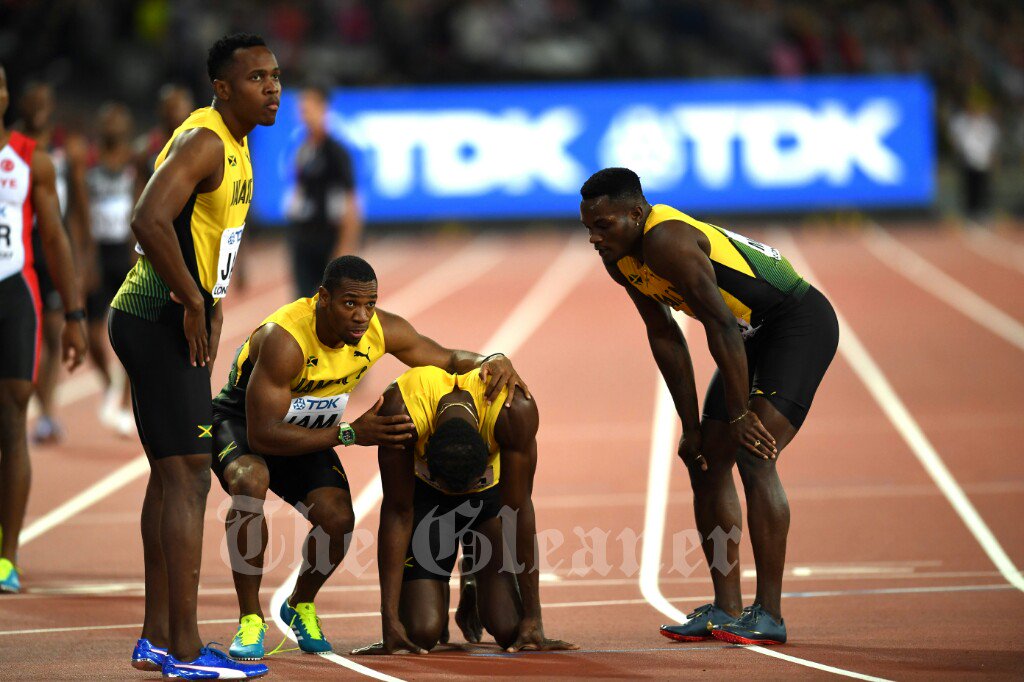 Blake said while waiting, Bolt complained that he never liked that wait.
"To see him go down like that, the legend, it's really hard," Blake said.
McLeod broke down in tears as he sought to retrace the race.
He said he expected a golden send off for Bolt and so he gave his best on the starting leg.
The athletes said Bolt has said sorry for the disappointment, but they have sought to assure him that it is OK.

ATHLETES' PROFILES
Name: Usain Bolt
Date of Birth: August 21, 1986
Events: 100m
​Season's Best: 100m 9.95, Personal Best: 100m - 9.58.
School: William Knibb High
Coach: Glen Mills
Track Club: Racers Track Club
Accolades: Nine-time Olympic Champion and 11-time World Champion

Name: Yohan Blake 
Date of Birth: December 26, 1989 
Events: 100m and 200m 
Seasonal Best: 100m 9.93 and  personal Best: 100m: 9.69, 200m-personal best 19.26. 
School: St. Jago High 
 Coach: Glen Mills 
Track Club: Racers Track Club 
Accolades: 2011 World 100m champion, 2012 Olympic Games 100m and 200m silver medallist 
Name: Julian Forte
Date of Birth: January 07, 1993
Events: 100m, 
Season's best: 100m-9.99; personal best: 100m- 9.99
School: Wolmer's Boys High
Coach: Stephen Francis
Track Club: MVP 
Name: Omar McLeod 
Date of Birth: April 25, 1994 
Events: 110m hurdles 
Season's Best: 12.90 and personal best 12.90 
School: Kingston College and Manchester High 
Accolades: 2016 Olympic Games 110m hurdles champion.