Edmond Campbell, Senior Staff Reporter
The issue of corruption in the local authorities again took center stage in the second debate on local government at the Creative Production and Training Centre in Kingston last night.
Jamaica Labour Party (JLP) representative Richard Creary described the People's National Party as the most corrupt political organisation in the Caribbean.
"Hanover Parish Council, Manchester Council, St Ann Parish Council – they have perfected corruption at the central government level, they have now perfected it at the local government level and even within their own party they have perfected it in terms of their own campaign funds for the election that just passed the other day. We know that the PNP is corrupt don't let them fool you tonight," Creary declared.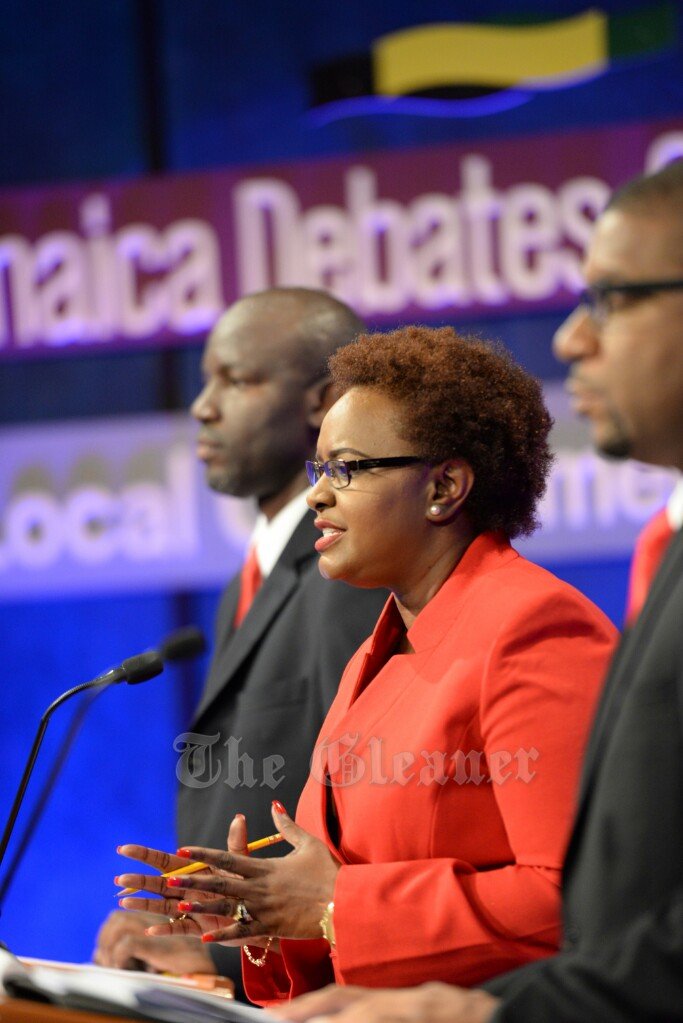 IN PHOTO: Venesha Phillips (centre) makes a point during last night's debate.
Responding, Venesha Phillips, the PNP's representative cautioned against politicising corruption, noting that wherever it shows up it should not be tolerated. "Persons are subject to human failings but the PNP does not condone it," she stressed.
She called on Local Government Minister Desmond McKenzie to make public a report on the Hanover Parish Council. "Jamaica whatever is in that report is of importance to all of us, whether it is that there are some proposals there to ensure that [breaches] are not repeated, it begs the question therefore, why hasn't the minister brought this matter to the fore?" she queried.
Hitting back, the PNP's Eugene Kelly cited JLP representatives who he claimed had been cited for corruption from the 1950's to the 1990's where JAG Smith was convicted for stealing farm workers money.
JLP representative Delroy Williams charged that over the last four years the PNP has been embroiled in nepotism and corruption. He said two persons from the Manchester Parish Council were arrested in recent times for corruption.
In his closing remarks, Milton Brown of the JLP pledged that his party would replace corruption and cronyism under the PNP with performance.