#PeterTakeover: Tearful Portia bids farewell as PNP president
Published:

Sunday | March 26, 2017 | 12:00 AM
Jovan Johnson, Staff Reporter
A tearful Portia Simpson Miller this afternoon bid goodbye to the presidency of the People's National Party saying throughout her 11 years at the helm, she's faced the pain of defeat and had the sweet taste of victory.
"I thank everyone," she said, listing former delegates from her St Andrew South Western constituency.
She also singled out former Prime Ministers and party presidents Michael Manley and PJ Patterson for their belief in her.
Manley was head of the party when Simpson Miller, a popular councillor, was chosen in 1976 to represent the party in the then Jamaica Labour Party stronghold of St Andrew South West.
She won and has been MP since, except for the period 1983-89 when the PNP did not contest the snap election of 1983.
Simpson Miller reiterated achievements during her period as head of government including the stabilisation of the economy under a tough agreement with the International Monetary Fund.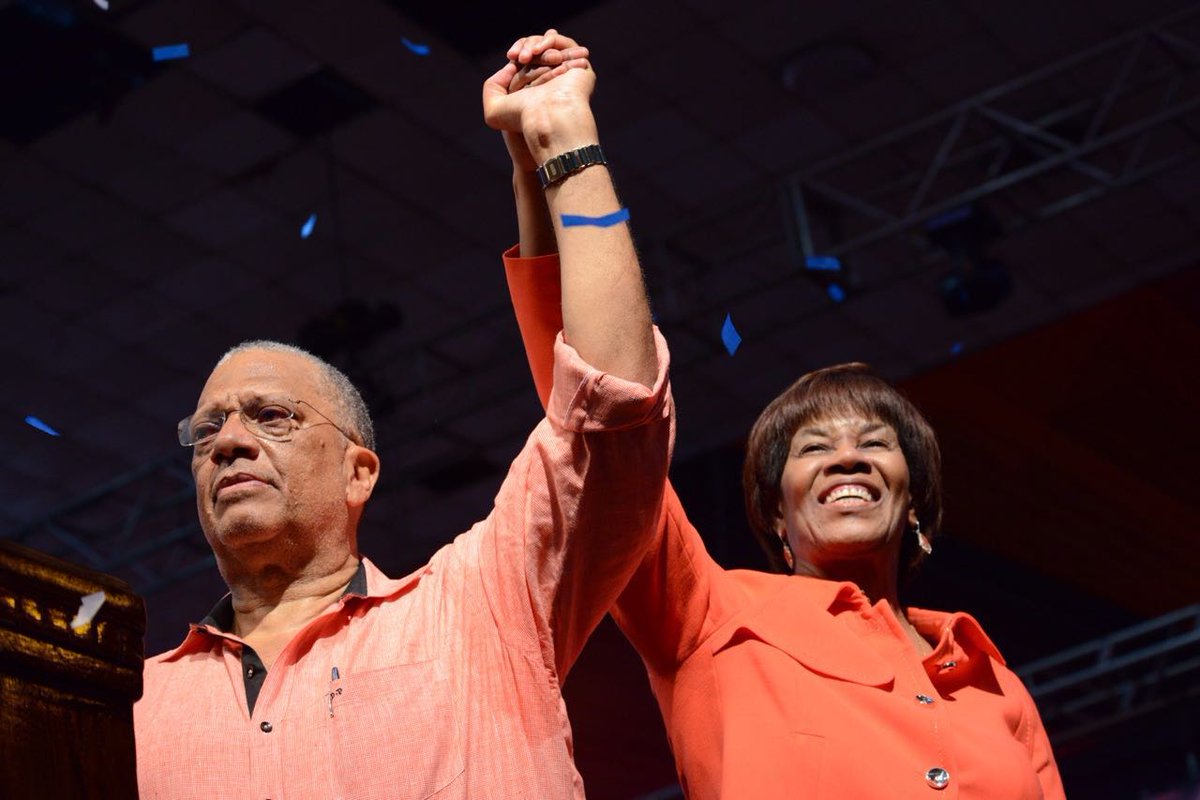 IN PHOTO: PNP president Dr Peter Phillips and Simpson Miller hold hands after he took the oath of office
She would also level criticisms on the Andrew Holness-led administration.
Those out of the way, Simpson Miller urged PNP members to give "full support" to Dr Peter Phillips, her successor.
"He cannot do it alone," she said.
Phillips twice ran against Simpson Miller for the leadership and lost.
The past two years of her presidency have been tumultuous and became a public spectacle after the shock defeat to the JLP in the 2016 general elections.
But, like she said in making her last speech to parliament as Opposition Leader, Simpson Miller said she did her best.
"Without the PNP, there would be no voice for the poor. With courage, this party will never falter."
"I have been blessed to serve the nation as prime minister, not once but twice," added Jamaica's first female head of government.
Her first stint was from 2006-2007.
"It has been the privilege of a lifetime to have served as your president. I will never forget you," she said.
With tears, she blew kisses to an adoring crowd, stepped down from the lectern, turned her back to greet senior party figures and, to salutes, closed her chapter as the fourth president of the PNP.
She'll step away as Opposition Leader on April 2.