Massive blaze at Atlantic Hardware for the second time in over a year
Published:

Saturday | November 30, 2019 | 12:00 AM
Damion Mitchell, Integration Editor
Some 56 firefighters from the Corporate Area and St Catherine, some without breathing apparatus, are now battling a major fire at the Atlantic Hardware on Ashenheim Road in Kingston.
The blaze began around 7.30 a.m and quickly spread throughout the building as flammable materials ignited, threatening the adjacent HEART Trust/NTA complex.
As thick plumes of smoke billowed into the skies, the Jamaican flag fluttered in the mild, morning breeze on the HEART Trust property.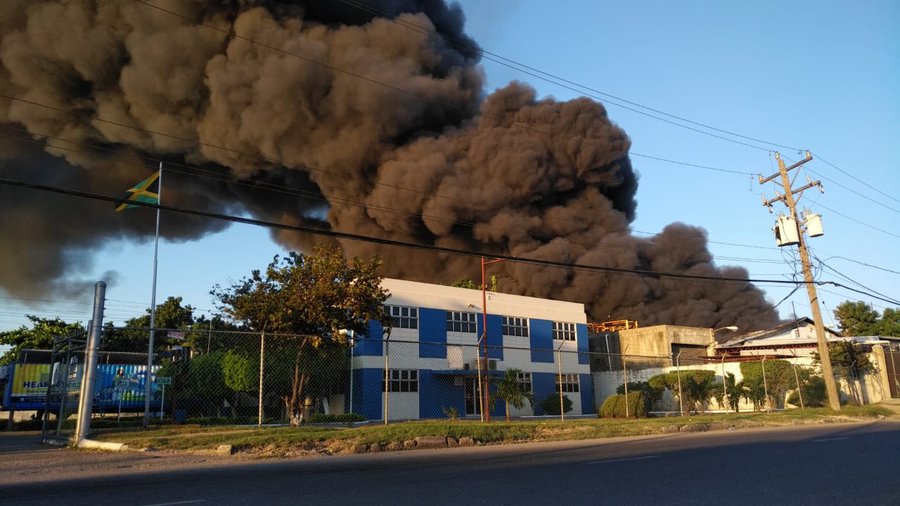 IN PHOTO: The Jamaican flag flutters amid a canopy of smoke in the background.
Next door, though, firefighters under the direction of Kingston and St Andrew Superintendent Julian Davis Buckle, moved with impatient haste, strategising how to tackle what is the second fire at Atlantic Hardware in just over a year.
In September last year, the warehouse as well as Pings Fabrics were extensively damaged in another early morning blaze.
A short while ago, Julian Buckle, the Jamaica Fire Brigade's superintendent for Kingston and St Andrew said, a 56-member team is responding to the fire at Atlantic Hardware. In September 2018, there was also a fire at the warehouse as well as Pings Fabrics - Kenyon Hemans video. pic.twitter.com/Yl5Gz3PMvZ

— Jamaica Gleaner (@JamaicaGleaner) November 30, 2019
"The fire is surrounded," Davis Buckle told The Gleaner around 8.30 a.m, after a fourth fire unit arrived on the scene.
Aerial images show a furnace spanning the length of the hardware, shooting clouds of black smoke into the air.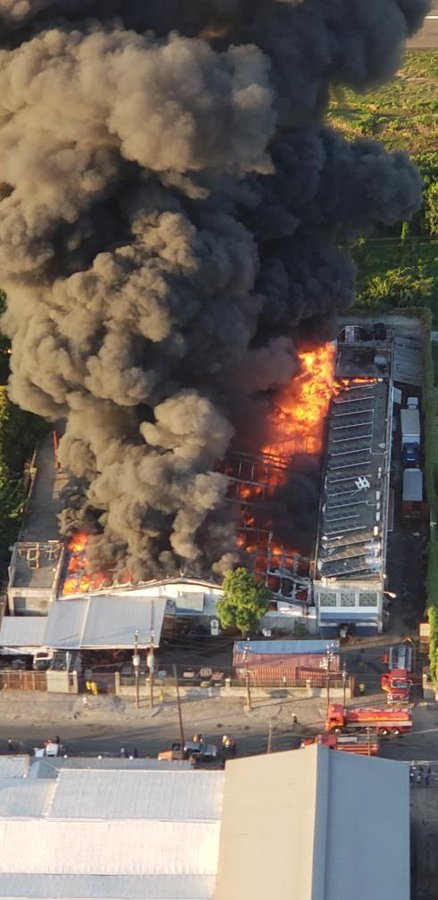 ​
IN PHOTO: Contributed aerial shot of the hardware fire
On the ground, residents of nearby communities and passers-by with phones in hand tried to capture the disaster as it happened.
A security guard heading in for the 8 o'clock shift was shocked as she cleared the corner to realise that her place of work was on fire.
Speeding up her strides as she got closer, the security guard pulled her cell phone to call someone relating the incident before engaging firefighters.
In the meantime a few workers and residents of nearby communities bemoaned that the fire is sure to scorch the sparkle out of Christmas for the Kingston-based business for the second consecutive year.
We want to hear from you! Send us a message on WhatsApp at 1-876-499-0169, email us at editors@gleanerjm.com or onlinefeedback@gleanerjm.com.