Manchester Fraud Trial | Former municipal officials found guilty, mom and teller freed
Published:

Friday | May 15, 2020 | 12:00 AM
Three former officials at the Manchester Municipal Corporation and two of their co-accused have been convicted for their roles in a fraud scheme that fleeced the local government authority approximately $400 million.
The corporation was previously called the Manchester Parish Council.
The verdicts were handed down in the Manchester Parish Court by Senior Parish Judge Ann-Marie Granger, a short while ago in a hearing that lasted for four hours and 15 minutes.
It is believed to be the biggest fraud case at a municipal authority in Jamaica's history.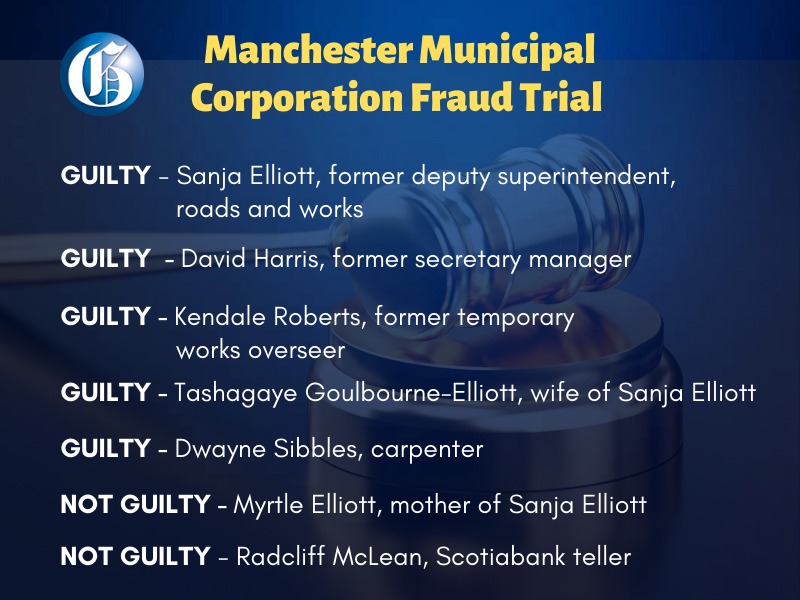 The convicts will remain on bail pending sentencing on July 27.
Today's hearing culminated a trial that lasted more than eight months in which 46 witnesses were called and 249 documents admitted.
The hearing was live streamed.
The scheme involved the use of fictitious invoices for the payment of monies for services that were never provided.
The charges
Sanja Elliott – conspiracy to defraud, obtaining money by false pretences, engaging in a transaction that involves criminal property, possession of criminal property and an act of corruption.
David Harris – conspiracy to defraud and an act of corruption.
Kendale Roberts – conspiracy to defraud, uttering forged documents and an act of corruption.
Radcliff McLean – conspiracy to defraud, causing money to be paid out by means of forged document
Dwayne Sibbles – conspiracy to defraud
Myrtle Elliott – facilitating the retention of criminal property
Tashagaye Goulbourne-Elliott – facilitating the retention of criminal property
Earlier this year, Edwardo Elliott, the father of former deputy superintendent of Roads and Works Sanja Elliott, was freed after Grainger agreed with his attorney that there was no case for him to answer.
The closely-watched case made national headlines in June 2016 after Sanja, described as the mastermind, and carpenter Dwayne Sibbles were arrested in a series of early morning raids conducted by the Major Organised Crime and Anti-Corruption Agency.
The raids marked the culmination of a major corruption probe which also included the Financial Investigations Division (FID).
Judge rejected unsworn statements
Parish Judge Ann-Marie Grainger spent more than three hours combing through testimonies and statements before she began delivering the verdicts.
One by one, she rejected the unsworn statements by seven accused.
Grainger described the plot as an illegal scheme that also involved three witnesses she described as accomplices.
The names of the witnesses appeared on close to 60 cheques drawn on the account of the then Manchester Parish Council.
All three witnesses, Melissa McFarlane, Natasha Heron and Tyrone Merchant, denied doing any work or causing anyone to do any work for the council even though their names and taxpayer registration number appeared on several payment vouchers.
In Heron's case, the parish judge underscored "inconsistencies" in the evidence she gave in court and the witness statement she gave police investigators.
The witness explained, in cross-examination, that her statement to the police was what she was told to say by Sanja Elliott.
Granger noted that there was no indication that the three raised any objections to their names appearing on cheques.
Notwithstanding, the judge said she accepted their testimonies as credible and forthcoming.
Crown seeks to forfeit Elliots assets
The Financial Investigation Division (FID) has served notice that at the sentencing hearing of the convicts in the Manchester Fraud Trial it will request an order to proceed to the Circuit Court to hear a Proceeds of Crime case.
The FID will be seeking a forfeiture order or monetary penalty for illicitly acquired properties.
The FID had already gone to court and obtained an order freezing approximately $220 million in cash, property and other assets traced to Sanja Elliott.
The restraint order, issued by Justice David Batts in September 2016, covers an apartment complex consisting of 11 units, a four-storey family house, four residential lots, six high-end motor vehicles, including a Honda Ridgeline, and several bank accounts.
In an eight-page indictment outlining the charges against the seven convicts, prosecutors revealed, that over a 42-month period, starting in June 2013, Sanja Elliott, his wife, and mother conducted a number of multimillion-dollar transactions, including purchases of five properties across the parish.
The fraud trial featured testimonies from witnesses who detailed how Sanja Elliott asked them to cash cheques, each valued at hundreds of thousands of dollars, that were payable to them and drawn on the account of the then Manchester Parish Council.
The witnesses testified, too, that they were never employed to or did work for the municipality.
Follow The Gleaner on Twitter and Instagram @JamaicaGleaner and on Facebook @GleanerJamaica. Send us a message on WhatsApp at 1-876-499-0169 or email us at onlinefeedback@gleanerjm.com or editors@gleanerjm.com.