Eight new COVID cases push tally to 564, recoveries now at 267
Published:

Tuesday | May 26, 2020 | 12:00 AM
There have been eight new cases of COVID-19 in the past 24 hours, pushing to 564, the number of confirmed infections.
At the same time, there have been 29 more recoveries increasing the tally to 267 with deaths remaining at 9.
This means there are now 309 active cases.
The new cases comprise one woman and seven men aged 28 to 62 years.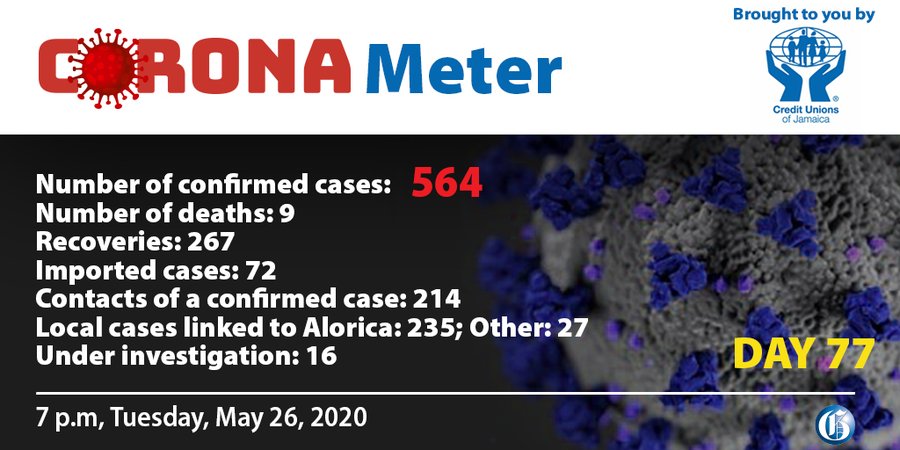 They are from the parishes of Kingston, St Andrew, St Mary, Manchester, St Elizabeth, Westmoreland and St James.
In announcing the new cases on Monday evening, Prime Minister Andrew Holness reported that Jamaica currently has one critically ill patient.
Meanwhile, Health Minister Dr Christopher Tufton also announced that 1,027 passengers from Royal Caribbean's Adventure of the Seas have been sampled.
So far, 19 have tested positive and 624 negative.
Crew members tested negative have been released to complete 14 days in quarantine at home while those tested positive remain in state isolation.
On Monday afternoon, a Norwegian Cruise ship with 174 Jamaican crew members docked at the Falmouth pier, the health minister confirmed.
The Carnival Glory with 256 Jamaican crew members has since docked alongside the Norwegian Cruise vessel.
Follow The Gleaner on Twitter and Instagram @JamaicaGleaner and on Facebook @GleanerJamaica. Send us a message on WhatsApp at 1-876-499-0169 or email us at onlinefeedback@gleanerjm.com or editors@gleanerjm.com.