Protesters gather in front US Embassy to demand change after George Floyd's death
Published:

Thursday | June 4, 2020 | 12:00 AM
Paul Clarke/Gleaner Writer
A small group of protesters today gathered near the US Embassy in St Andrew in solidarity with the family of the unarmed, black American George Floyd who was killed when a Minnesota policeman knelt in his neck nine days ago.
While the Jamaicans protested, thousands of people honoured Floyd at several memorial services across the United States.
In St Andrew, the police insisted that the four protesters should relocate some 200 yards beyond where they stood.
"Our protest is not about justice, that's just-ice. We know how to break down words," said Akil Andrews who was leading the demonstration.
He continued: "What we want is change and that is why we are most upset that our own police personnel could not show compassion and allow us to stand where we were."
Andrews and his colleagues were surprised when United States Ambassador Donald Tapia walked out of the embassy compound on Old Hope Road to greet them.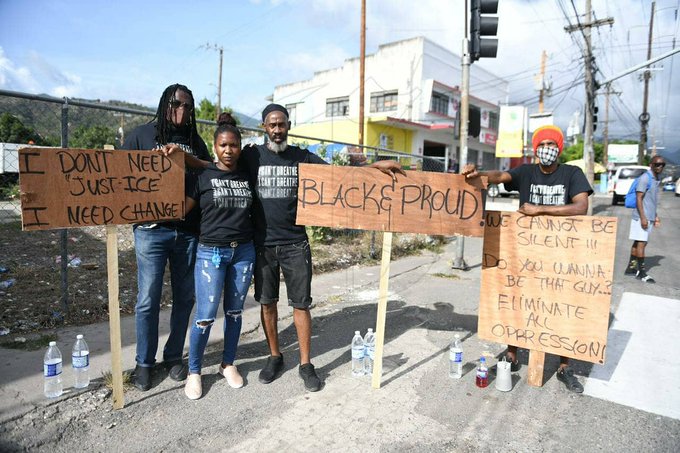 "The ambassador himself and a few of his staff came out here to us and he said he was with us. That says a lot to me," said Andrews.
He said, however, that while racism was not a big issue in Jamaica, classism was real and should be addressed with urgency.
"We cannot stay silent. Change is what we demand in relation to racism, classism and any other 'ism' that divides the world," said Andrews.
Several motorists passing the protesters honked their horns in support.
Encouraged, the protesters vowed to return every day until their protest is taken seriously by the authorities.
They said as America took seriously the death of black men and women at the hands of white officers, they intend to show support for the many Jamaicans, killed innocently at the hands of the security forces.
The protesters cited Susan Bogle, the 44-year-old disabled woman killed by a soldier in August Town, St Andrew last week.
That matter is now under investigation.
Follow The Gleaner on Twitter and Instagram @JamaicaGleaner and on Facebook @GleanerJamaica. Send us a message on WhatsApp at 1-876-499-0169 or email us at onlinefeedback@gleanerjm.com or editors@gleanerjm.com.