Duncan family heartened by support after DK's passing, PJ lost a friend
Published:

Thursday | September 17, 2020 | 8:42 PM
The family of former Cabinet minister Dr D.K. Duncan has released a statement saying it is heartened by the outpouring of love and appreciation from across the world following his passing.
Duncan died at a hospital on Thursday, weeks after he was admitted.
In August, he tested positive for COVID-19.
In a statement, the family said Duncan left an indelible mark on the social fabric of the nation.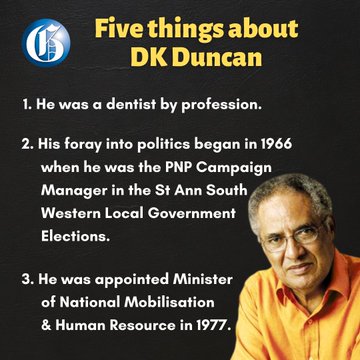 "He was not afraid to challenge the status quo, speak his truth and stand for equality for all people. He was fearless in championing issues that affect the majority of Jamaicans that often feel they have no voice," said a family spokesperson in the statement.
The Duncan family also described the former politician as a master political organiser, focused on participation and engagement to build the country and a movement from the ground up.
They said Duncan chose the People's National Party as his vehicle to express this development for his country and was instrumental in the development of the party.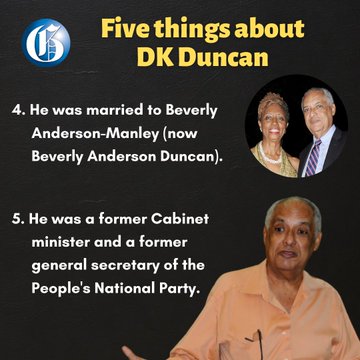 "DK and Bev, together for over three decades, were deeply bonded over their shared passion for equality and social justice and vision for Jamaica," said the family in reference to Duncan's widow, Beverly Manley Duncan.
Duncan was the father of politicians Imani Duncan-Price and Patricia Duncan Sutherland.
He also fathered Keith Duncan, president of the Private Sector Organisation of Jamaica, Donna Duncan-Scott of the Jamaica Money Market Brokers, Dr Josina Duncan and David Duncan.
Meanwhile, former Prime Minister PJ Patterson has joined in paying tribute to Duncan.
READ: Tributes Pour in for DK Duncan
Patterson said the former political organiser was his friend for more than 60 years.
"DK's contributions to the People's National Party and his beloved Jamaica are substantial and legendary," said Patterson, a former party president.
Patterson said as PNP General Secretary, Duncan used his world-class, political organisational skills to build a robust secretariat, and to strengthen the party's structure, which led to further democratising the party's decision-making.
Follow The Gleaner on Twitter and Instagram @JamaicaGleaner and on Facebook @GleanerJamaica. Send us a message on WhatsApp at 1-876-499-0169 or email us @onlinefeedback@gleanerjm.com or editors@gleanerjm.com.