Jamaica remains Caribbean's fifth most corrupt country - CPI report
Published:

Thursday | January 28, 2021 | 7:07 AM
Edmond Campbell/Senior Reporter
Jamaica showed little improvement on Transparency International's Corruption Perception Index (CPI) for 2020, inching up from a score of 43 to 44 out of 100, in a context where zero is deemed very corrupt and 100 is very clean.
This marginal improvement moves Jamaica to 69th out of 180 countries, up five places from 74th in the 2019 CPI ranking.
SEE: Full list - 2020 Corruption Perception Index
Despite Jamaica's slight movement in its CPI score, it remains the fifth most corrupt state in the Caribbean ahead of Guyana, Trinidad and Tobago, Dominican Republic and Haiti.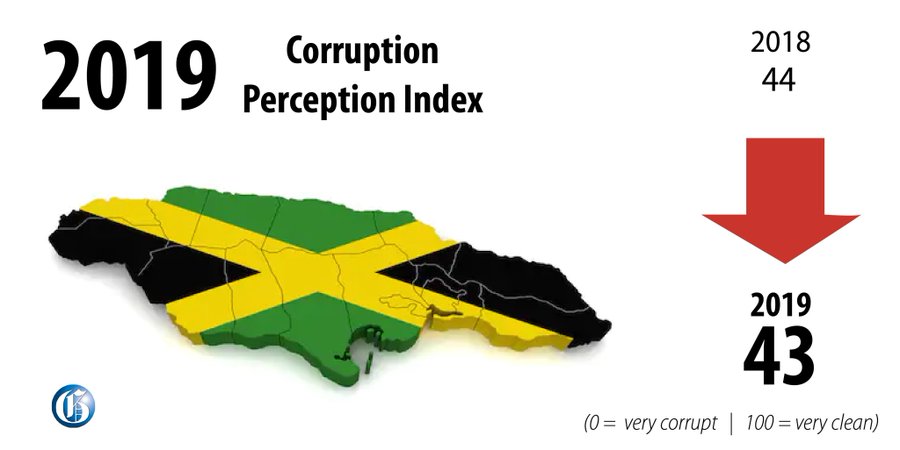 READ: Eight reasons Jamaica's corruption score worsened in 2019
Meanwhile, in the 2020 index, Barbados was deemed the least corrupt country in the Caribbean with a score of 64 out of 100 and a ranking of 29th out of 180 countries.
On Tuesday, Justice Minister Delroy Chuck said, since the new Integrity Commission was established three years ago, more than $1 billion had been invested in the oversight body.
Going forward, he said the government would invest similar sums annually in the commission.
"We expect from the Integrity Commission a certain amount of timely disclosure, timely intervention, timely assessment of contracts (and) various transactions in the public sector," said Chuck as he piloted the Protected Disclosures Motion in Parliament making the commission the designated authority to receive reports from whistleblowers.
He said that with this kind of investment in the anti-corruption watchdog, the government is expecting the commission to take action that would significantly reduce incidents of corruption, indiscipline and disorder in the public sector.
Chuck called for members of the public service to report to the Integrity Commission, incidents of corruption, inefficiency and indiscipline.
Follow The Gleaner on Twitter and Instagram @JamaicaGleaner and on Facebook @GleanerJamaica. Send us a message on WhatsApp at 1-876-499-0169 or email us @onlinefeedback@gleanerjm.com or editors@gleanerjm.com.