Integrity Commission says Jamaica's corruption score not worth celebrating
Published:

Thursday | February 4, 2021 | 10:55 PM
Integrity Commission boss Greg Christie says Jamaica's one-point improvement in the latest corruption perception score is nothing to celebrate.
The index, released last week, shows Jamaica inching up from a score of 43 in 2019 to 44 in 2020 where 0 is highly corrupt and 100 is very clean.
"It is nothing to boast about and the Integrity Commission is not satisfied about it," said Christie.
The single-point improvement has helped to move Jamaica from 74th out of 180 countries in 2019 to 69th last year.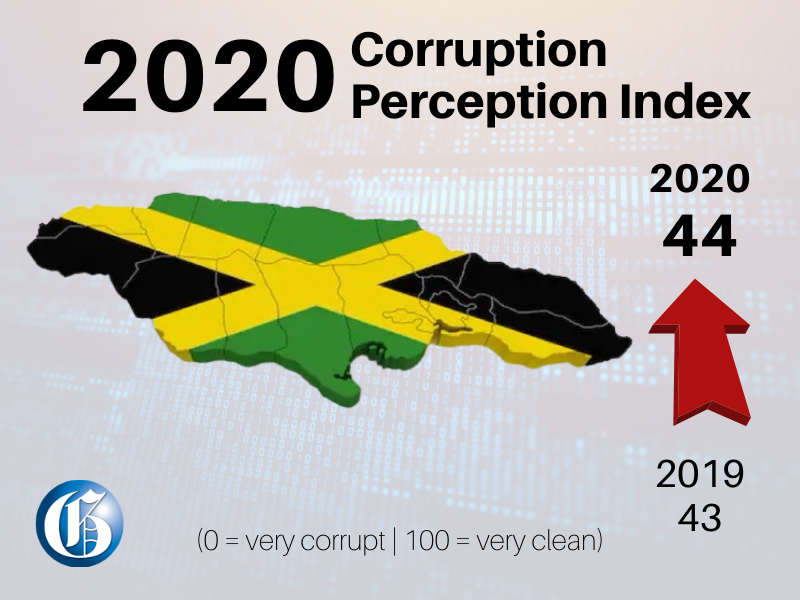 However, it remains the fifth most corrupt country in the Caribbean.
The Integrity Commission said Transparency International's assessment of Jamaica suggests that corruption is endemic, systemic, pervasive and deep-rooted in the country. 
According to Christie, in order to improve Jamaica's standing on the Corruption Perception Index (CPI), a holistic approach, driven by transformational leadership is needed at every level.
Since 2002 when Transparency International began ranking Jamaica, the country has averaged a CPI of only 37.5 out of 100.
 A CPI score below 50 means that a country has a serious corruption problem, is experiencing prevalent bribery, a lack of punishment for corruption, and public institutions that do not respond to citizens' needs. 
"The unmistakable reality is that Jamaica has been firmly planted in this category for at least two decades," the commission noted.
How Caribbean countries appear in the ranking:​
Barbados
Rank: 28th
​Score: 64
The Bahamas 
Rank: 30th
Score: 63
St Vincent and the Grenadines
Rank: 40th 
​Score: 59
St Lucia 
Rank: 45th
​Score: 56
Dominica 
Rank: 48th
​Score: 55
Grenada 
Rank: 52nd
​Score: 53
Cuba 
Rank: 63rd
​Score: 47
Jamaica
Rank: 69th
​Score:​ 44
Guyana 
Rank: 83rd
​Score: 40
Trinidad and Tobago
Rank: 86th
​Score: 40
Dominican Republic
Rank: 137th
Score: 28
Haiti
Rank: 170th
​Score:​ 18
Follow The Gleaner on Twitter and Instagram @JamaicaGleaner and on Facebook @GleanerJamaica. Send us a message on WhatsApp at 1-876-499-0169 or email us @onlinefeedback@gleanerjm.com or editors@gleanerjm.com.