UPDATED: Two dead following plane crash in Greenwich Town
Published:

Thursday | November 10, 2016 | 12:00 AM
The Health Ministry is reporting that the third victim of the Greenwich Town plane crash is alive, though critically injured.
Earlier, the police and the Fire Department had reported that the third victim was pronounced dead at the Kingston Public Hospital (KPH).
However, the chief medical officer Dr Winston De La Haye told The Gleaner a short while ago that the patient, a student pilot, is alive.
"He became conscious enough to give a history to doctors at KPH. He's now sedated with burns to 60 per cent of his body, bone fractures, eye trauma and obviously inhalation injuries from any fumes he is likely to have inhaled," De La Haye said.
He said the patient is expected to go to the Intensive Care Unit.
The flight instructor and another student were pronounced dead on the scene.
The aircraft burst into flames on impact and also ignited a house.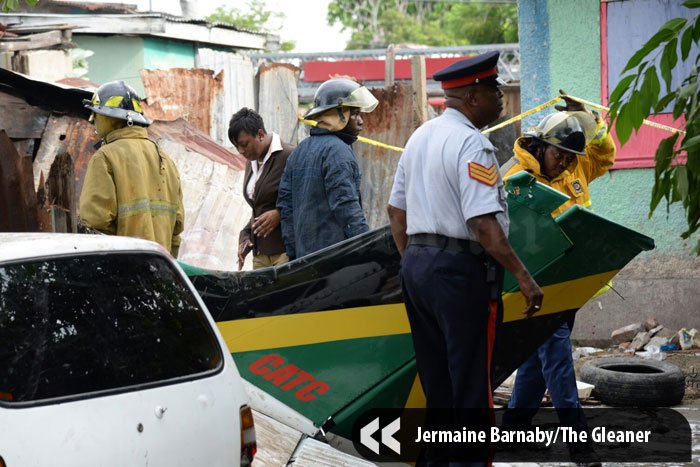 IN PHOTO: Police investigators and fire personnel walk pass a part of the plane that crashed in Greenwich Town earlier this afternoon.
The police say the small aircraft crashed sometime after 1 o'clock this afternoon on Seaview Lane in the community.
The Transport Minister Mike Henry told a Caribbean Maritime Institute graduation ceremony that the plane had just taken off when it crashed.
IN PHOTO: This map shows the crash scene in Greenwich Town, Kingston.
He says the plane belonged to the Caribbean Aviation Training Centre.
Opposition Leader Portia Simpson Miller in whose South West St Andrew constituency the crash happened visited the scene expressing regret at the incident.
A woman claiming to be a relative of one of the victims who turned up at the scene was crying uncontrollably.
In the meantime, the Civil Aviation Authority has launched a probe into the incident.