Long-time journalist Peter Abrahams dies at 97
Published:

Wednesday | January 18, 2017 | 12:00 AM
Long-time journalist Peter Abrahams is dead.
Abrahams, 97, was found dead at his home in Rock Hall, St Andrew this morning.
Born in Johannesburg to an Ethiopian father and South African mother of mixed race, Abrahams fled his homeland in 1939 after the government charged him with treason.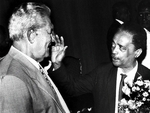 IN PHOTO: Peter Abrahams (right) with former prime minister, Michael Manley.
After two years working on a ship, he settled in England where his passion for black liberation fit in with a colony of Pan-Africanists in London.
FROM THE ARCHIVES: A chat with Peter Abrahams
Abrahams was an established journalist when he arrived in Kingston in 1956 to write a book about Jamaica for the British Colonial Office.
He had written for liberal publications like the Daily Worker and The Observer in England, and the New York Herald Tribune in the United States.
In Jamaica he worked with several entities including Radio Jamaica.