Judge rules alleged gangster Tesha Miller be charged by 4 p.m. or released from police custody
Published:

Thursday | April 20, 2017 | 12:00 AM
Livern Barrett, Senior Gleaner Writer
Kingston and St Andrew Parish judge Vaughn Smith has ruled that reputed gangster Tesha Miller must be charged by 4 o'clock this afternoon or released from police custody.
Miller, who is believed to be the leader of the St Catherine-based Clansman gang, has been in police custody since April 4 when he was deported from The Bahamas.
In court this morning, Miller's attorney Able-Don Foote described as sinister, the continued detention of the reputed gangster.
On Tuesday, Miller pleaded guilty to making a false declaration to Jamaican immigration officials and was fined the maximum $100.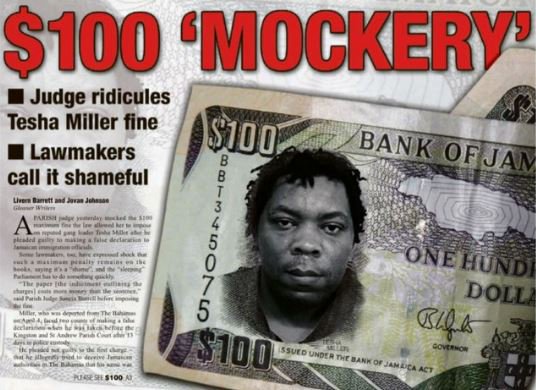 However, he has remained in the custody of the police, who have indicated that he is the subject of a number of investigations.
Last evening, Miller was interviewed by detectives from the Major Investigations Taskforce and the Counter Terrorism and Organised Crime division but was not charged after the lengthy question and answer sessions.
As a result, his attorney went to the court this morning and made a habeas corpus application to have him released.
Foote told the court that his client was asked a total of 160 questions.
"There is nothing against him and it's sinister to continue the detention of a citizen of this country, regardless of who they are," Foote argued.