#ReturnToLondon: Usain Bolt leads eight Jamaicans in action today
Published:

Friday | August 4, 2017 | 12:00 AM
Robert Bailey, Gleaner Writer
Sprint superstar Usain Bolt leads eight Jamaicans in action on today's opening day of the IAAF World Athletics Championships in London.
Bolt, who is set to retire from the sport after this year's championships, will compete in the heats men's 100m at 2.20 p.m along with 2011 world 100m champion Yohan Blake, Julian Forte and Senoj-Jay Givans.
The 30-year-old Bolt, who will be aiming to defend his crown, has recorded a season's best time of 9.95 seconds in his last race at the Monaco Diamond League last month.
Meanwhile, national record holder Fedrick Dacres will compete in the second qualifying round of the men's discus throw.
Dacres will enter the competition as one of the favourites for the gold medal.
He became the first Jamaican to win a throwing event at the IAAF Diamond League meet, as he claimed the Stockholm leg with a mark of 68.36m in June.
The 23-year-old has set the national record twice this year, the first in January at the Big Shot Invitational meet with a throw of 68.67m.
He broke it two weeks later at the King of the Ring Throws meet at Excelsior High with a mark of 68.88m on February 11.
Dacres' throw of 68.88m ranks him second in the world this year behind Daniel Stahl of Sweden, who has thrown 71.29m.
Jamaica's other competitor in the event, Travis Smikle, will compete in section two.
The 25-year-old Smikle, who has a personal best throw of 67.12m, finished second at the National Championships with a mark of 63.36m behind Dacres.
National champion Forbes Demar Forbes will compete in section A of the men's long jump while Ramone Bailey will participate in section two.
Today's schedule for Jamaican athletes:
Men's Discus Qualification Group A: 1:20 p.m.
Fedrick Dacres
Men's Long Jump: 1:30p.m.
Damar Forbes
Ramone Bailey
Men's 100m heats: 2:20p.m.
Usain Bolt
Yohan Blake
Julian Forte
Senoj-Jay Givans
Discus Qualification Group B: 2:45p.m.
Travis Smikle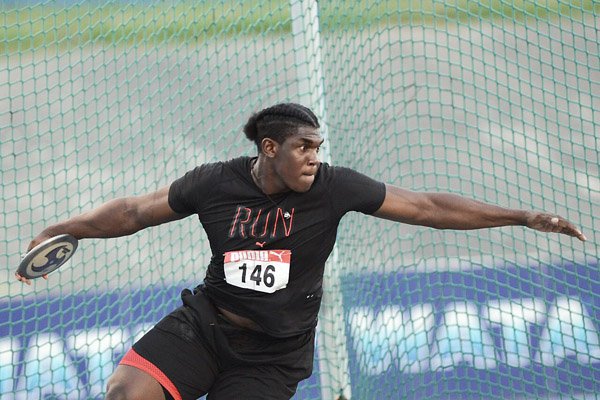 Athletes' profiles:
Name: Usain Bolt
Date of Birth: August 21, 1986
Events: 100m
Season's best: 100m-9.95; Personal Best: 100m- 9.58 and 200m- 19.19
School: William Knibb High
Coach: Glen Mills
Track Club: Racers Track Club
Accolades: Nine-time Olympic Champion and 11 –time World Champion
Name: Yohan Blake
Date of Birth: December 26, 1989
Events: 100m, 200m and 400m
Seasonal Best: 100m- 9.93 and 400m: 47.42; personal Best: 100m: 9.69-200m- 19.26 and 400m-46.32
School: St. Jago High
Coach: Glen Mills
Track Club: Racers Track Club
Accolades: 2011 World 100m champion, 2012 Olympic Games 100m and 200m silver medallist.
Name: Julian Forte
Date of Birth: January 07, 1993
Events: 100m,
Season's best: 100m-9.99; personal best: 100m- 9.99
School: Wolmer's Boys High
Coach: Stephen Francis
Track Club: MVP
Name: Fedrick Dacres
Date of Birth: February 28, 1994
Event: Discus throw, Shot put
Season's best: Shot put-20.46, Discus throw-68.88; personal best: Shot put-20.46, Discus throw-68.88
School: Calabar High
Coach: Julian Robinson
Accolades: World Junior Champion, World Youth champion and three-time national champion
Name: Travis Smikle
Date of Birth: May 7, 1992
Event: Discus Throw
Season's best: 63.36; personal best: 67.12
School: Calabar High
Coach: Julian Robinson
Accolade: Two-time national champion