Hillel Academy says sorry for controversial slavery assignment
Published:

Friday | April 13, 2018 | 12:00 AM
The Board of Hillel Academy has apologised for the controversial history assignment given to grade nine students requiring them to chose a model of punishment they would impose on enslaved blacks.
There has been intense public pressure on social media over the assignment.
"Given the language used in the assignment, we accept and understand the concerns that have been raised; and acknowledge that there should have been greater sensitivity in the wording of this assignment," a spokesperson for the Hillel board said in the statement.
The spokesperson said the moment the assignment was brought to the attention of the board, action was taken in communicating with students.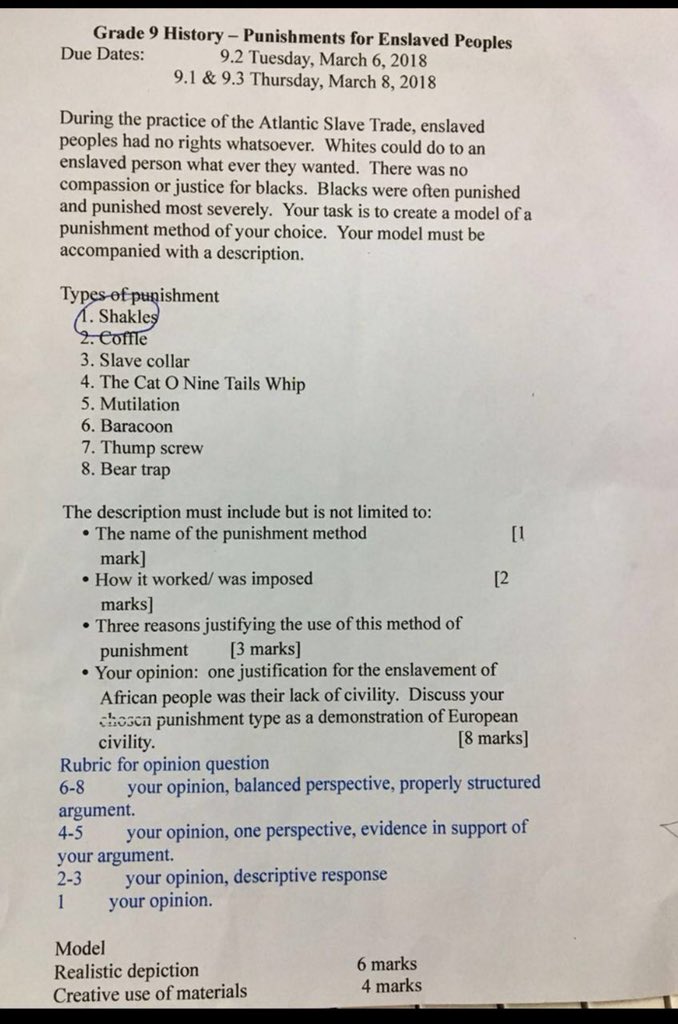 IN PHOTO: A screenshot of the controversial assignment
"We apologise to our students and we continue to dialogue with each student who received the assignment," the spokesperson said.
The board said it has explained the actual intent, which was to learn about and become sensitive to what has been accepted as one of the most egregious acts towards any group of human beings of any century.
"We will continue to have dialogue with all students, parents and staff members to ensure that each is aware that we do not justify nor condone any action of slavery towards any individual historically or presently," the spokesperson said.
The statement further said Hillel Academy does not, in any way, accept or condone any disrespectful, demeaning or discriminatory attitudes or behaviours.
"We consider ourselves educators of a future generation and encourage empathy and respect for every human being," the spokesperson said.
We want to hear from you! Send us a message on WhatsApp at 1 (876) 449-0169, email us at editors@gleanerjm.com or onlinefeedback@gleanerjm.com.