Thompson pleased, McLeod's confidence boosted after Shanghai wins
Published:

Saturday | May 13, 2017 | 12:00 AM
Andre Lowe
Andre Lowe, Sports Editor
Elaine Thompson says she is happy with her preparation after another big win, this time in the 100m at the Shanghai Diamond League, where she ran a world leading 10.78 seconds in slightly negative wind on Saturday.
Omar McLeod held off a determined Orlando Ortega in the 110m hurdles, and later called the victory a confidence booster, after crossing the line in 13.09 seconds for his latest triumph over the Cuban-turned-Spanish hurdler at the meet, which saw nine Jamaicans facing the starter.
In the women's 100m event, Thompson exploded out of the blocks before taking over midway the race and increasing her lead with every stride, eventually winning with some three metres or so of daylight between herself and Olympic silver medal winner Tori Bowie, 11.04 and Ivory Coast's Josee-Marie Ta Lou, 11.07.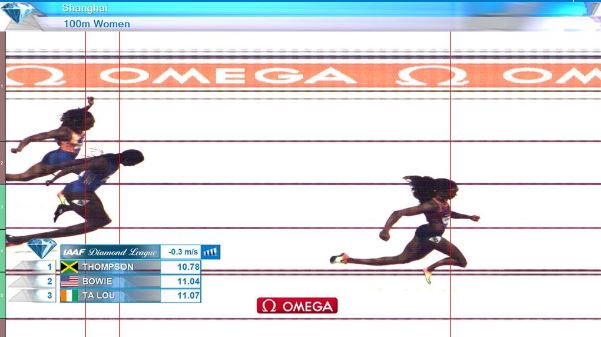 The double Olympic sprint champion and defending Diamond Race winner in the event said she was pleased with the way her season has been going and is looking forward to the World Championships in London later this year. Thompson pointed to her start as a key in the win.
"I was happy with my preparation and the way I executed the race today. I made a great start and I was able to bring it home. I am pleased with the time. My aim now is to go back home and compete in the Jamaica Invitational (next Saturday). From there it is all about preparing for the rest of the season and the World Championships," Thompson said.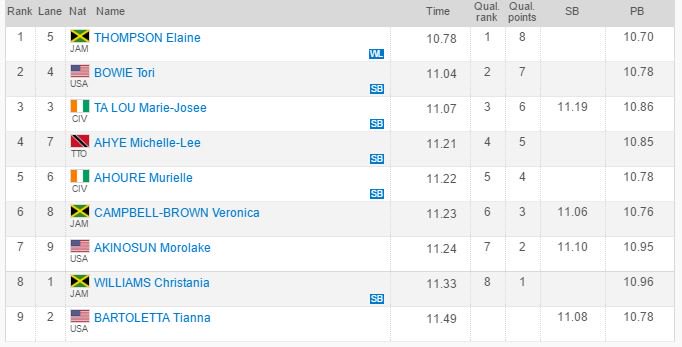 Veronica Campbell-Brown was unable to improve on her 11.06 season best after finishing sixth in 11.23, while Christania Williams, 11.33, got her season off with an eight placed finish.
McLeod and Ortega are expected to do battle all season in the sprint hurdles and the pair provided an exciting finish, carrying each other to the line before the Jamaican's on-the-ground speed made the difference after they cleared the final hurdle.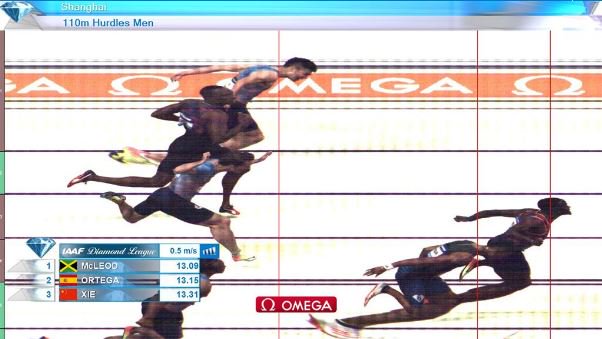 McLeod, who returned to an eight step approach pulled away from his rival with his final four strides and continued his dominance of the event with Ortega taking second in 13.15. China's Xie Wenjun, 13.31 giving the home crowd something to cheer about with his third place run.
"I didn't get out that great and that did not allow me to control the race. I didn't execute that well and it turned into a bit of scrap. I know Orlando (Ortega in second) is a great competitor, so I'm pleased to win. Every time you go out to the track and win, it is a confidence booster. You don't want to be defeated as that throws your confidence off," said McLeod.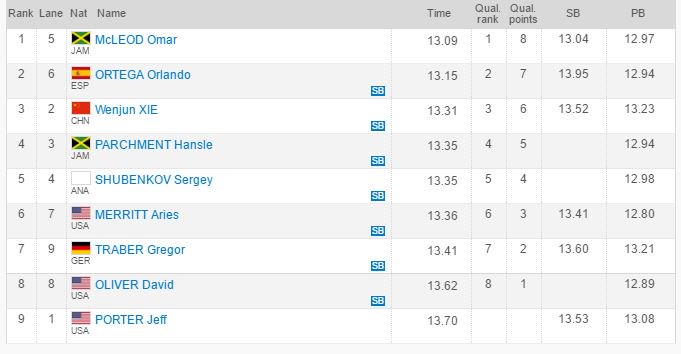 Jamaica's Hansle Parchment will be fairly pleased with his 13.35 fourth place finish after his injury issues at the back-end of last season.
The Jamaican women finished outside of the top spots in the 400m with Novelene Williams-Mills, 51.45 and Anneisha McLaughlin-Whilby, 51.63 running fourth and fifth, while Stephenie-Ann McPherson, 51.97 took seventh behind Olympic champion Shaunae Miller - Uibo, who dropped a massive 49.77 seconds in her commanding win.
The Jamaica International Invitational - bound Natasha Hastings, 50.74 was second.
Annsert White lowered his season best to 50.18 but finished seventh in the 400m hurdles, which was won by Bershawn Jackson, who will also compete at JIIM next Saturday. Jackson manhandled the field to win in 48.63.