CHAMPS 2019 | KC, Edwin Allen rule at Champs
Published:

Saturday | March 30, 2019 | 12:00 AM
Robert Bailey/Gleaner Writer - -
Kingston College (KC) won their first Boys Champs title in ten years, while defending champions Edwin Allen had to withstand a strong final day challenge from rivals Hyde to retain their girls crown on a fiery ISSA/GraceKennedy Boys and Girls Athletics Championships Super Saturday inside the National Stadium.
KC, who last won the title 2009, tallied 395.50 points - the most ever in the history of the championships, to comfortably win ahead of dethroned champions Calabar, who ended second on 313 points.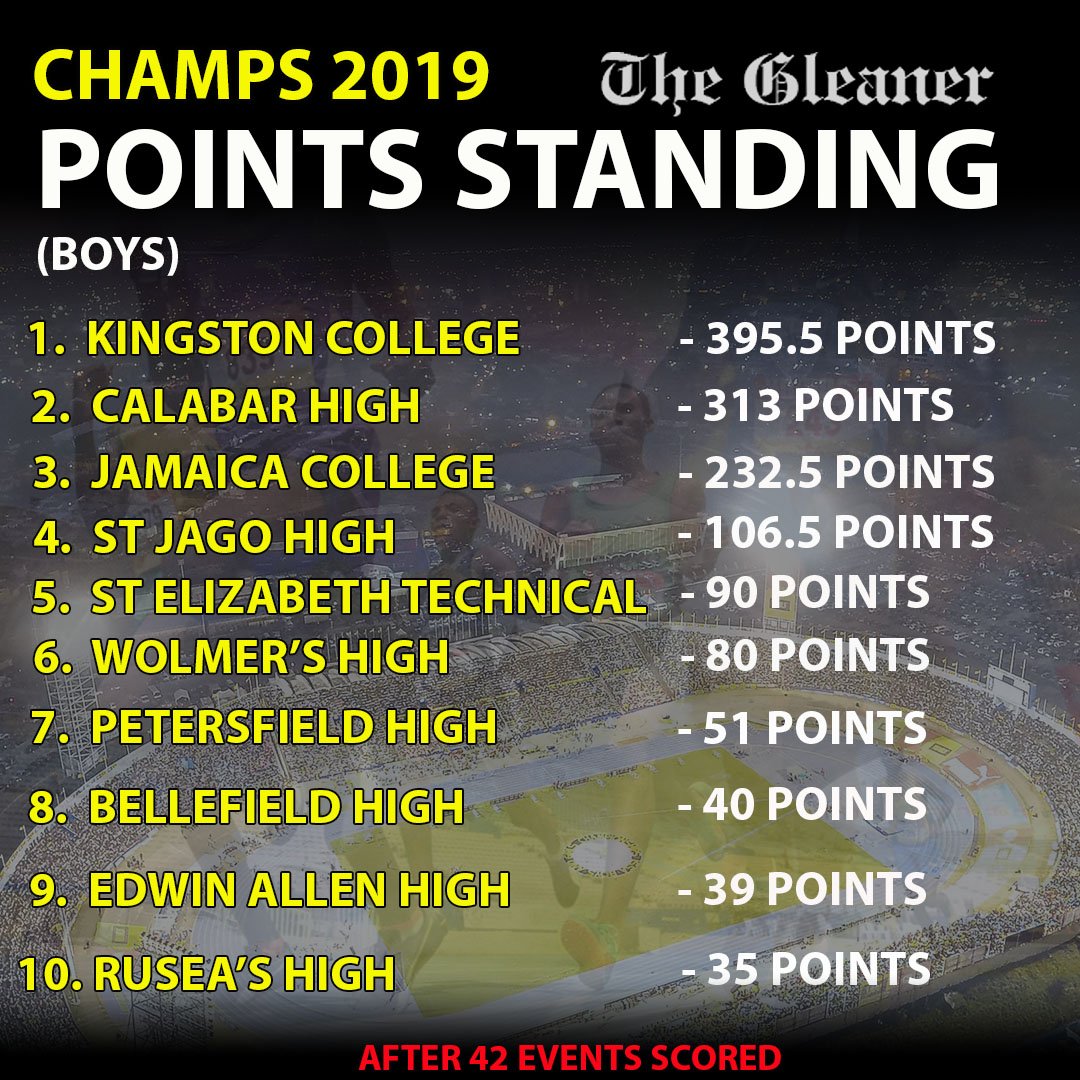 Jamaica College are building nicely, but they again had to settle for third after finishing with 232.50 points with St Jago 106.50 points and St Elizabeth Technical 90 points completing the top five.
They were followed by Wolmer's Boys (80), Petersfield (51), Bellefield (40), Edwin Allen (39), Rusea's (35), Excelsior (32), Holmwood (23), Clarendon College (18) and Lacovia (16) and Tarrant (15) competes the top 15 teams.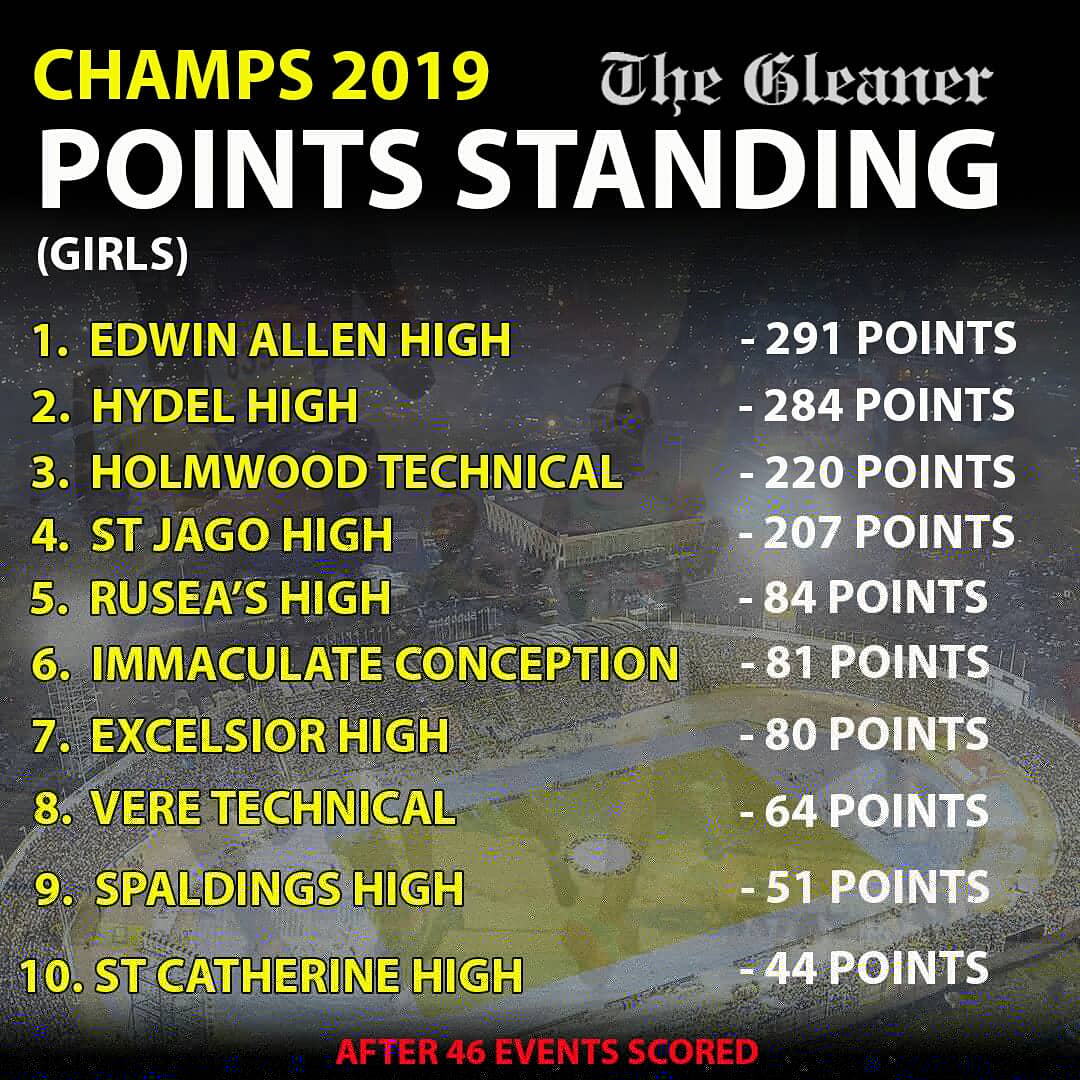 Edwin Allen, who were winning their sixth straight title, won the girls title by seven points, as they tallied 291 points to end ahead of Hydel, 284. They are followed by Holmwood (220), St Jago (207), Rusea's (84), Immaculate (81), Excelsior (80), Vere (64), Spaldings (51), St Catherine (44), Petersfield (40), The Queen's School (39), St Elizabeth Technical (38), Manchester (36) and Wolmer's Girls (35) as the top 15.
KC's record-breaking long jumper Wayne Pinnock produced another history making performance to outclass his rivals to the Boys Class One 110m final.
Pinnock, who won the long jump title on Thursday with 8.06m, dismantled the field to win in a new mark of 13.06 seconds in the sprint hurdles event. He erased the previous time of 13.10 seconds, which was held by Calabar's Dejour Russell, who finished fourth in the event in 13.43 seconds.
Pinnock's team-mate Akeem Cargill was second in 13.28 seconds, while third went St Jago's Rasheed Broadbell in 13.33 seconds.
It was also a KC one-two in the final of the Boys Class Three 100m hurdles final, as Ra'john Gray won the event in the blanket finished in 13.17 seconds ahead of his team-mate Amontae Wray, 13.18 seconds, while third went to Allem Pinto from St Elizabeth in 13.67 seconds.
St Jago's Vashuan Vascianna, the 100m champion, produced a spectacular performance to break in his own record to win the Boys Class Two 100m hurdles event.
Vascianna, who won the Class Two 100m gold medal on Friday night, clocked an impressive 13.26 seconds to erase his previous time of 13.35 second, which he set last year.
Jahvel Granville, also from St Jago, was second in 13.43 seconds, while third went to Neil-Matthew Sutherland of Jamaica College in 13.75 seconds.
In the event of the championships, Calabar's Kimar Farquharson produced the run of the championships, outpowering his rivals on his way to shattering the boys Class One 800m record. Farquharson won the event in 1:48.67 seconds to erase the previous mark of 1:48.84 seconds, which was set by Sherwin Burgess of Vere way back in 1987.
Enid Bennet's Tyrice Taylor, who was favoured to win the event, having recorded a personal best of 1:48.86 two weeks ago, was second in 1:48.91 seconds. Kingston College's (KC) Tarees Rhoden was third in 1:49.04 seconds.
Bellefield High School's Tavaughn Martin was second in 1:58.68 while third went to Alex Taylor of St Jago High in 2:01.40 seconds.
In the girls' Class One 800m final, Hydel High School's Charokee Young secured her second gold medal of the championships when she won the event in 2:06.02.
Wolmer's Boys School quarter-miler Jeremy Farr produced a mild upset to win the Class One 400m in a lifetime best time 45.65 seconds. Pre-race favourite, Calabar standout Christopher Taylor finished second in 46.38 ahead of his team-mate Evaldo Whitehorne 46.54 seconds.
Charokee Young of Hydel High won the girls equivalent in 52.48 seconds. She finished ahead of Vere's Nickisha Pryce (53.35) and Kavia Francis from Holmwood (53.59).
Excelsior's Shantae Foreman registered her second gold medal when she won the Class Two long jump title, with a mark 1.73m. Daniella Anglin of Herbert Morrison was second with mark 1.70m with Daniel Hinds of Excelsior taking third with a leap of 1.70m.
Hydel's Ashanti Moore and Xavier Nairne of Wolmer's Boys won the respective Class One 200m titles respectively.
Moore, who won the 100m on Friday, completed the sprint double with victory in 23.26. Ockera Myrie of Petrersfield finished second in 23.80, while third went to Daszay Freeman of The Queen's School, in 24.02.
Meanwhile, Nairne sped away from his rivals to win the boys event in 20.91. Jevaughn Powell of KC was second in 21.02, while third went to Michali Everett from JC in 21.02. Taylor, who has clearly been dealing with a physical problem throughout the championships, did not report for the event.
KC, and Hydel won the boys and girls Class One 4X100m relays respectively.
KC sped away from rivals Calabar, who were without the injured Christopher Taylor, to win the event in 39.98 seconds. Calabar did, however, finish second in 40.15 with third going to St Jago in 40.53. Hydel won the Girls' event in 44.44 seconds in front of Edwin Allen 45.06 and St Jago 45.19.