Murders up 1,100% - Hanover homicides skyrocket in first 21 days of 2017; Western Jamaica records almost 50% of killings overall
Published:

Wednesday | January 25, 2017 | 12:26 AM
Arthur Hall
Having ended 2016 with the worst per-capita murder rate in Jamaica, the parishes of Hanover, St James and Westmoreland have started 2017 in the same vein, accounting for 43 per cent of the 82 murders committed across the island in the first 21 days of this year.
Last year, the three parishes (along with St Elizabeth), the epicentre of the deadly lottery scam, recorded a little more than 450 murders at well above the national average of 50 murders for every 100,000 people.
This year, data contained in the Jamaica Constabulary Force's Periodic and Serious Crimes Review for January 1-21 show a similar trend in the western end of the island, with Hanover the most worrying.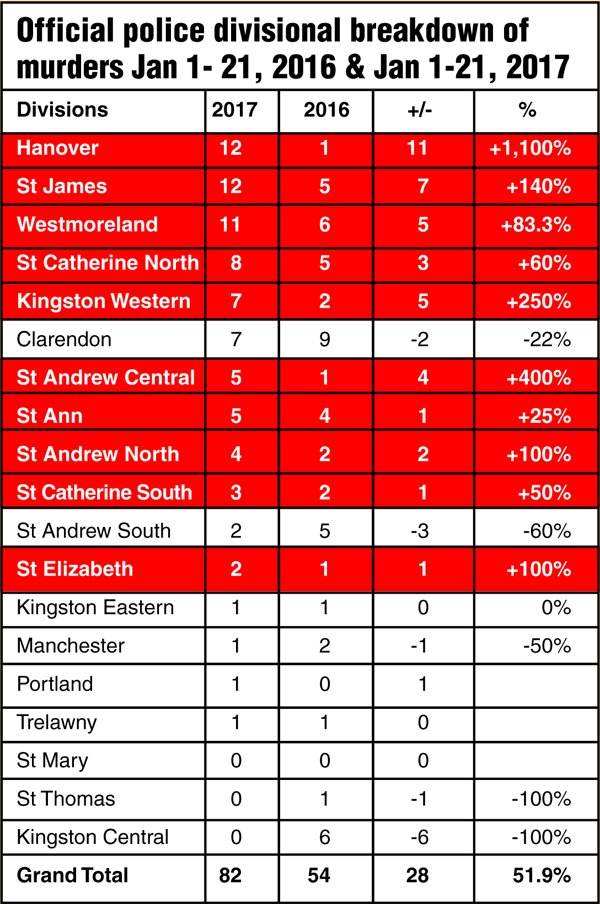 According to the police data, Hanover has been the joint bloodiest parish so far this year, with 12 persons killed. That is 11 more than killed over the corresponding period last year and represents a frightening 1,100 per cent increase in murders in the once sleepy parish.
DEADLY RAMPAGE
The new year opened with Hanover recording two of the first murders across the island for 2017 and the bloodletting is yet to stop, despite increased police presence.
Williamsfield, Hanover, was also the scene of a deadly rampage last week, with gunmen claiming the lives of one-year-old Daquan Davidson, five-year-old Kimani Johnson and 34-year-old Hopeton Lee, in two separate incidents minutes apart.
Neighbouring western parishes of St James, with 12 murders, and Westmoreland, 11, complete the list of the three most violent parishes across the island so far this year.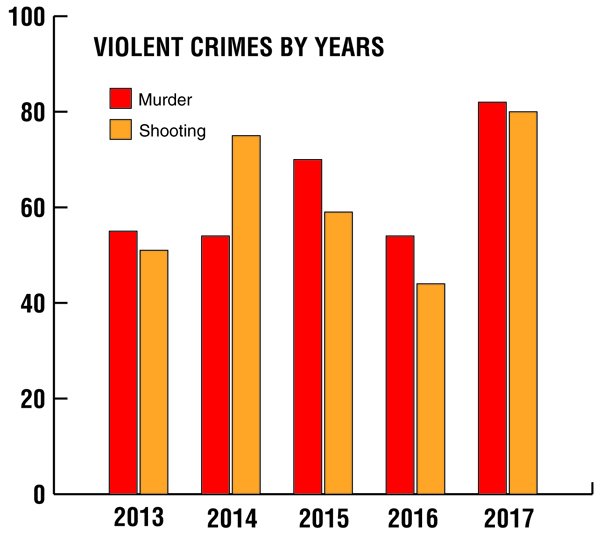 Prime Minister Andrew Holness has already noted the danger of crime in western Jamaica and used his New Year's message to announce a restructuring of the security forces to increase operational and administrative focus on the affected parishes.
Holness also repeated a previous disclosure by Chief of Defence Staff Major General Rocky Meade that an army battalion ­ up to 500 members of the Jamaica Defence Force ­ would now be stationed in Montego Bay, St James.