How the C'bean voted in UN resolution against Trump's Jerusalem declaration
Published:

Thursday | December 21, 2017 | 3:16 PM
Jamaica was among seven Caribbean countries that decided to withhold their votes on the United Nations resolution to declare as "null and void", President Donald Trump's recognition of Jerusalem as the capital of Israel.
Six other countries from the region voted in favour of the resolution and two were absent.
In total, 128 UN member countries voted in favour of the resolution, nine against and 35 abstained resulting in what the Palestinian are calling a victory for them.
Caribbean Roll Call
IN FAVOUR
Barbados
Belize
Cuba
Dominica
Grenada
Guyana
St Vincent and the Grenadines
ABSTAIN
Antigua and Barbuda
Bahamas
Dominican Republic
Haiti
Jamaica
Trinidad and Tobago
ABSENT
St Kitts and Nevis
St Lucia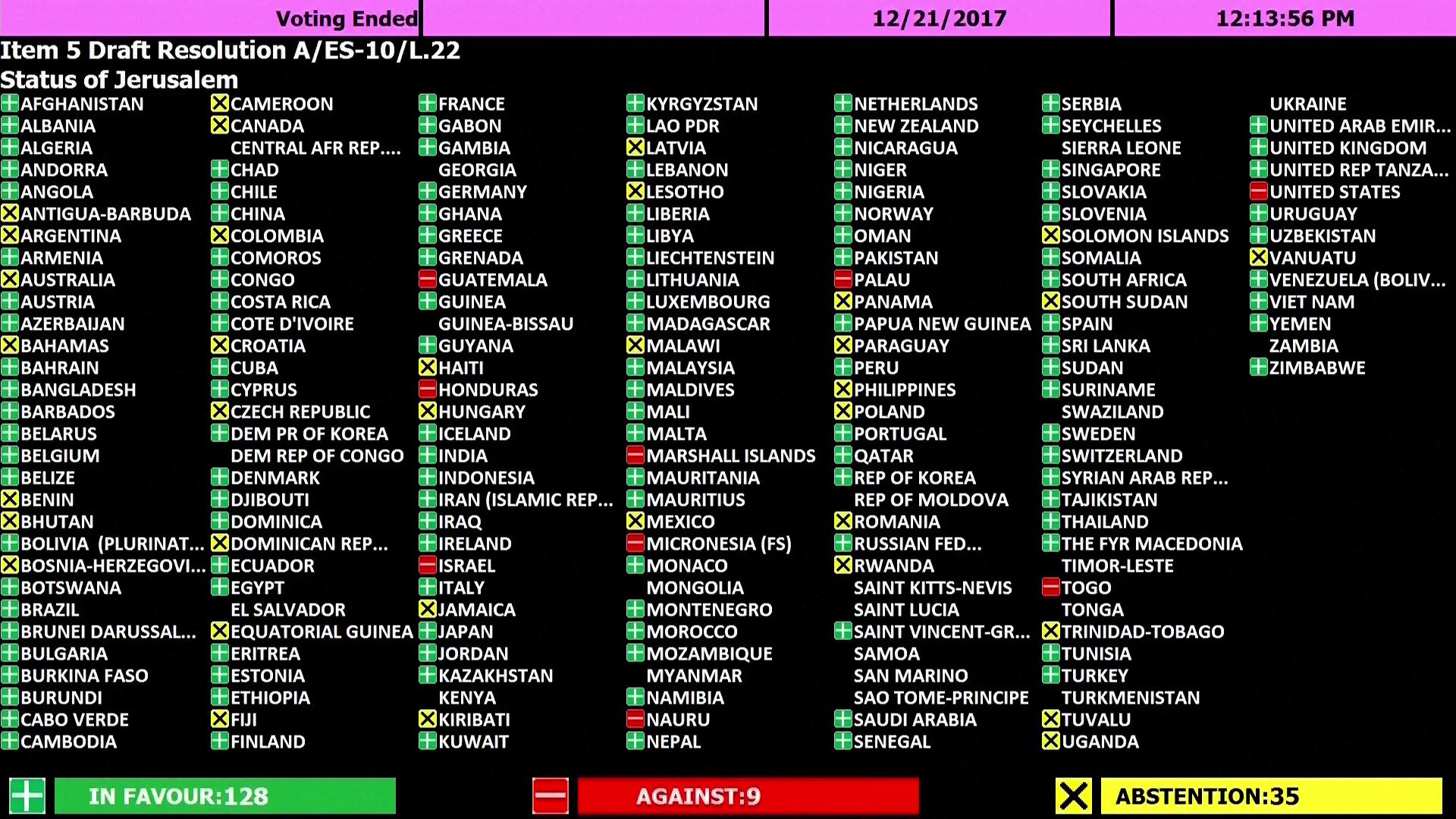 IN PHOTO: Full list of UN member countries and their votes
THE RESOLUTION:
Today's resolution demanded that "all States comply with Security Council resolutions regarding the Holy City of Jerusalem, and not recognise any actions or measures contrary to those resolutions."
The General Assembly further affirmed that "any decisions and actions which purport to have altered the character, status or demographic composition of the Holy City of Jerusalem have no legal effect, are null and void and must be rescinded in compliance with relevant resolutions of the Security Council."
In that regard the Assembly also called upon all States to refrain from the establishment of diplomatic missions in the Holy City of Jerusalem, pursuant to Security Council resolution 478 adopted in 1980.
Reiterating its call for the reversal of the negative trends that endanger the two-State solution, the Assembly urged greater international and regional efforts and support aimed at achieving, without delay, a comprehensive, just and lasting peace in the Middle East.