Published:

Monday | January 15, 2018 | 12:00 AM
Syranno Baines/Gleaner Writer
The message that hit home for the hundreds who gathered to celebrate the life of Ian Anthony Boyne at the National Indoor Sports Centre in Kingston yesterday came from the veteran journalist himself - and in no uncertain terms.
"We must cherish one another; we do not know when it might be the last opportunity we have together," declared Boyne.
The 50-second audio clip, recorded by Boyne's former Jamaica Information Service (JIS) colleague Donna-Marie Rowe on Saturday, December 16, 2017, two days before Boyne's shock passing, was solely intended to be played for JIS staffers at the organisation's Christmas soiree that same night.
Played at the thanksgiving service yesterday, the audio clip took on greater poignance and brought many to tears.
Boyne continued: "Whatever we have to say to one another, say it. Don't wait until a person is sick, or a person has died, to say, 'I wish I had said that'. Let us treat each other with love."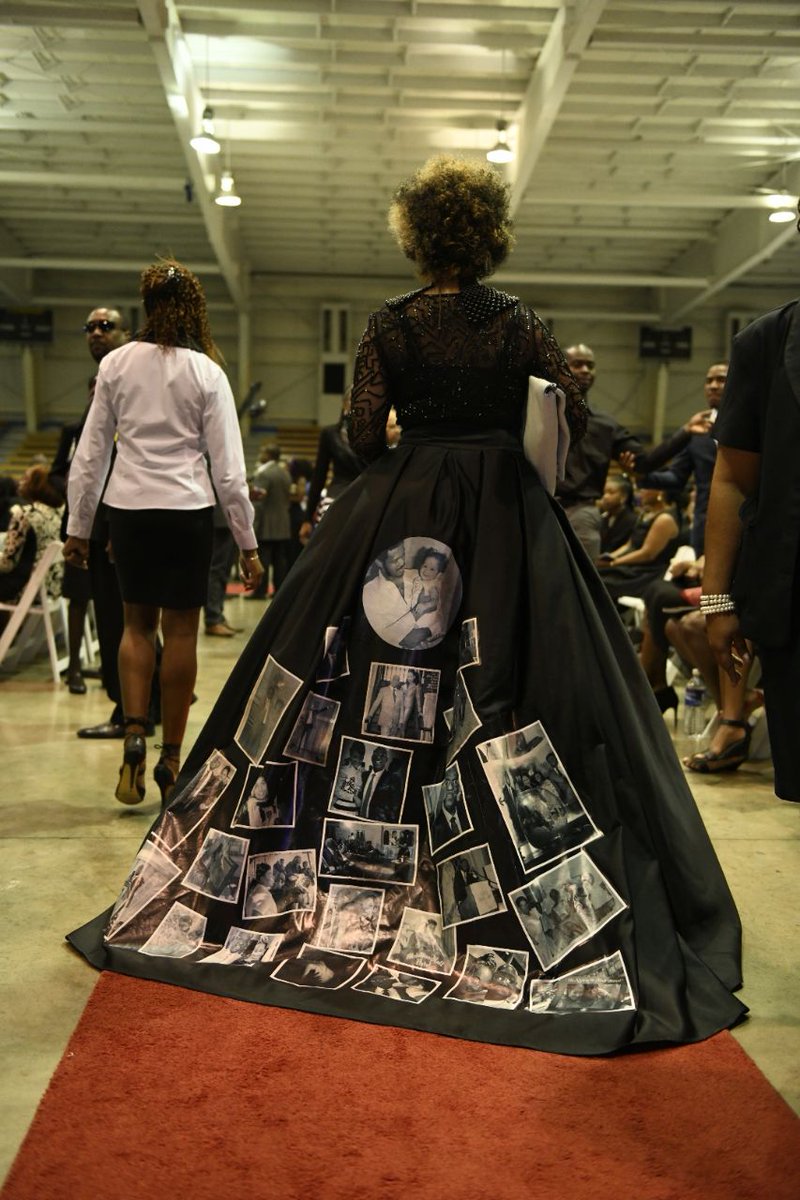 IN PHOTO: Kelly-Ann's outfit featured photos of moments throughout her father's life.
With tears still flowing, the family tributes followed.
Media veteran Fae Ellington delivered on behalf of Boyne's wife, Margaret.
"His faith meant everything to him and he tried to be the best husband in the world. He was incredibly forgiving," Ellington said. "He was hilarious; people would often wonder what would keep us laughing as if we're newly-weds. Ian was compassionate. He would cry easily, often touched by the suffering of the poor."
Stepson Andre Skeen underscored that Boyne was a man of God, who accomplished his task. "He left the world better than he found it. He will always be loved and missed," said Skeen.
Stepdaughter Brianna Grant said Boyne was her best friend, who taught her many critical life lessons.
"He gave me the greatest gift anyone could give another person - he believed in me. I will forever cherish the bond we shared," she said.
In what was perhaps the most touching tribute, Boyne's daughter, Kelly-Ann, captivated the audience as she delivered her rendition of His Eye is on the Sparrow in a stroll through the aisle towards the podium to deliver the eulogy.
"To be asked to pen a tribute to a being whose 'Be-ing' cannot be encapsulated by the finite construct called language, may be the greatest disservice I will ever do to my father," she said.
"Dad, you said I was the star of your TV show, but you were the star of my universe."