'Driver, mi a guh dead?' asked Alpha teen shot in taxi
Published:

Thursday | June 30, 2016 | 3:09 PM
The driver of a taxi in which a student of the Convent of Mercy Academy (Alpha) was shot this morning says the shocked teen asked him if she was going to die.
The teen was shot when police allegedly opened fire on the vehicle at the intersection of North Street and Mark Lane.
The taxi driver, Gregord O'Connor told The Gleaner that he was the one to take the injured teen to hospital.
O'Connor said after allowing the other passengers to get out of the vehicle the injured student also attempted to get out of the vehicle in fear of being shot again.
"Mi say, 'No! You cyan come out! I have to carry you up a public [Kingston Public Hospital]'," the driver said, recounting the incident.
"She said: 'Driver, mi a guh dead?'. And mi seh, 'no'."
O'Connor said he proceeded to the Kingston Public Hospital where the child, who suffered a wound to the head, is now undergoing treatment. 
Meanwhile, disgruntled taxi operators later blocked a section of the roadway on North Parade in downtown Kingston to protest the shooting of the schoolgirl.
They used an old refrigerator, tyres and other debris to block the road.
The operators have accused the police of acting extra judiciously.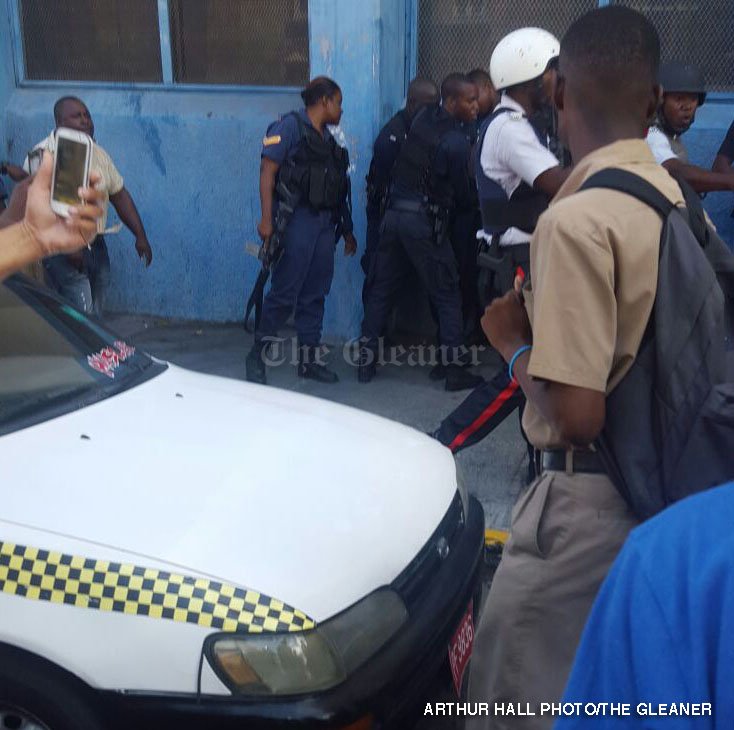 IN PHOTO: A team of police personnel struggle to arrest a taxi operator at the Duke Street taxi stand in Kingston.