Maximum security inmate charged with Mandeville extortion, sentencing postponed for co-accused
Published:

Friday | April 21, 2017 | 12:00 AM
Tamara Bailey, Gleaner Writer
MANDEVILLE, Manchester:
An inmate at one of Jamaica's maximum security facilities has now been charged with extortion offences in Mandeville, Manchester.
The inmate, Kendrick White, is incarcerated in the corporate area.
He is believed to be the mastermind behind the extortion ring and is accused of making numerous calls to businesses that were being targeted for extortion.
The head of the Manchester Police, Superintendent Wayne Cameron, says White is to appear in the Manchester Parish Court on Wednesday to answer to charges of extortion and conspiracy to extort.
A day later, his co-accused, 24-year-old Careba Salmon is to return to the court for sentencing having pleaded guilty to six counts of extortion and six counts of conspiracy to extort.
Based on social media messages, the police believe Salmon has a relationship with White.
She was scheduled to be sentenced today, but this has been put off until next week Thursday after White appears before Parish Judge Desiree Alleyene.
Today, Salmon, dressed in full white, along with her supporters, appeared calm as her lawyer, Joel Nelson, pleaded for leniency.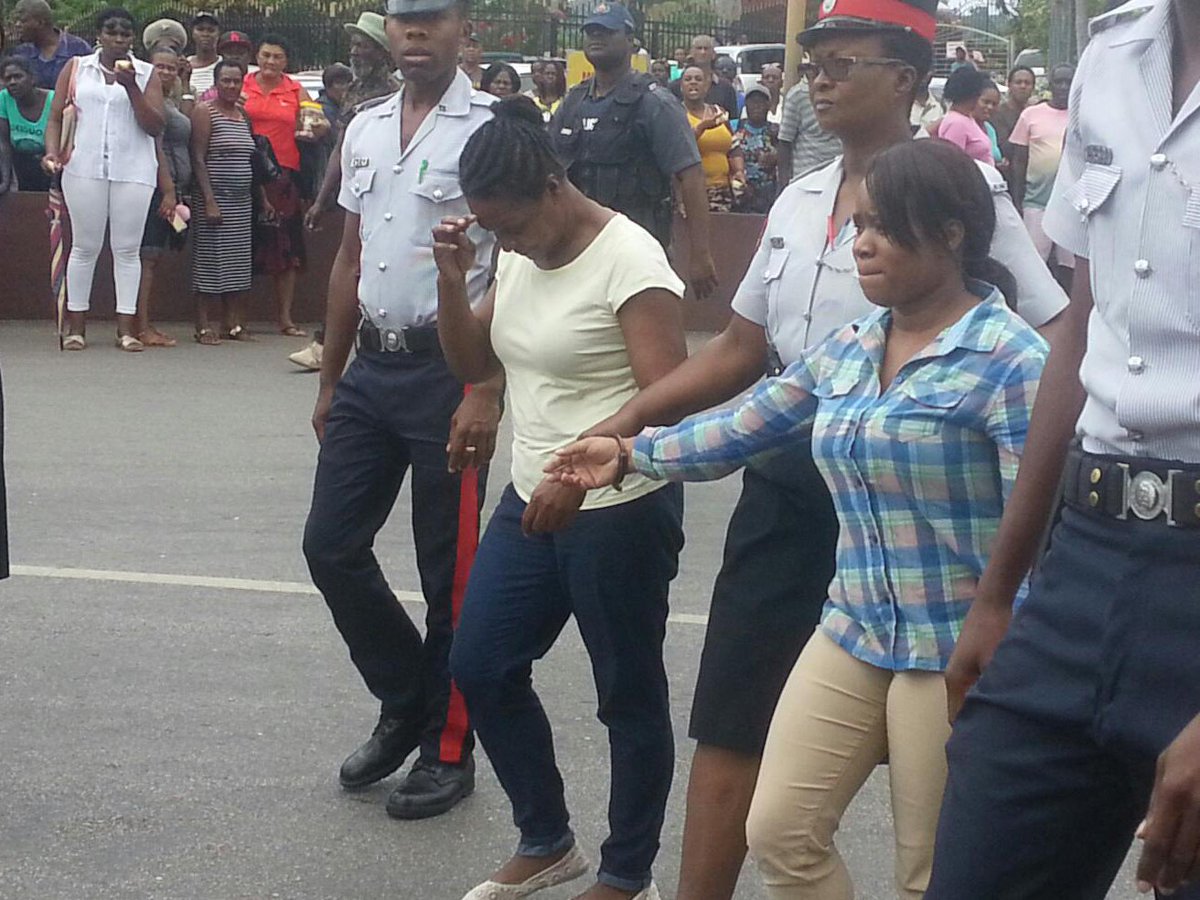 IN PHOTO: Sheila Smith, 64, and Careba Salmon, 24, being escorted from the Manchester Parish Court
Nelson said his client is deserving as she was not responsible for conceiving or distributing the letters.
He said she was approached to edit letters, based on her proficiency in the English Language.
According to Nelson, Salmon was also asked to buy items including a printer, ink and pins.
He said when she made enquiries as to the use of these items, having already a divulged some personal information, she was given an ultimatum to continue giving her assistance or be killed.
Salmon, who is the mother of a five-year-old child, is said to have received the forgiveness of some members of the business community based on her character references.
It was also revealed that through her cooperation with the police, White was exposed.
Meanwhile, the police say fellow accused, Sheila Smith, 64, of a Free Town, Clarendon address will have additional charges brought against her as she was found in possession with fraudulent documents when she was arrested.
Smith along with co-accused, Beko March, 21, also of Free Town, and Keeno Powell, 21, of Top Hill, Manchester have been remanded and are set to return to court on May 3.
Another accused, Sandre Bogle, of a Top Albion address in Manchester is on bail in the sum of $200,000.